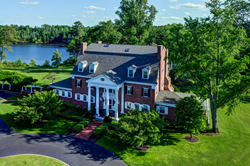 "The fact that this home was designed by the renowned Boston architectural firm Chapman and Frazer really show as you walk through the main residence..." - Paul McInnis
Dover, NH (PRWEB) September 06, 2017
The legendary, historic Georgian mansion known as "Three Rivers Farm" is now on the market and available for purchase at Auction on Wednesday, September 27th at 5:00 p.m. This sale is being conducted by Paul McInnis Inc, live and on-site at 185 Three Rivers Farm Road, Dover, New Hampshire, with online bidding available.
Boston architectural firm Chapman and Frazer were hired to complete Edward Warren Rollins vision; a magnificent summer compound for his family and for entertaining. Built in 1901, this historic home was built on the confluence of the Piscataqua River as it joins the Cocheco, and Salmon Falls Rivers. The Three Rivers Farm retains the elegance of the Georgian Revival architecture, now meticulously restored upon 18.9+/- waterfront acres. The home is 10,000+/- square feet, containing 8 bedrooms of precise restoration. The added improvements also include a waterside dock, a cabin (on a mini island), the original restored 36' x 110' 3 story post and beam barn with 3 different living quarters, a brick four car garage with living quarters, a one bedroom guest house by the water's edge, and an in ground heated pool.
"The fact that this home was designed by the renowned Boston architectural firm Chapman and Frazer really show as you walk through the main residence and see every detail that was thought of throughout the entire home. Chapman and Frazer were the premier architects in the Northeast in in the late 19th and early 20th centuries," stated Paul McInnis.
With over half a mile of owned water frontage, this property offers a very private setting. Across the river, the property benefits from an eternal easement that protects the shorefront from development and provides wonderful, natural forested views of nature and all of its' many splendors. The tree lined driveway gives you a glimpse into the past as you get a glimpse of the magnificence of this setting.
Since 1976, Paul McInnis, Inc. is a full service auction and real estate brokerage company that has sold thousands of Real and Personal Property Assets for clients throughout New England and beyond. Real estate broker and auctioneer licenses are held in Maine, Massachusetts, New Hampshire, Vermont and Florida, with affiliates across the United States. Offering both traditional brokerage and accelerated auction marketing to sell all types of real estate including commercial, industrial, resort, multi-family, mixed-use, waterfront and residential properties. Contact Paul McInnis Inc. at 603-964-1301, or for complete terms and details please visit http://www.paulmcinnis.com. Lic.#2089 - (603) 964-1301 - Ref.# 17PM-27