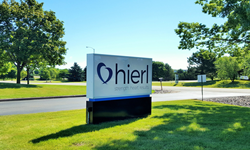 "This educational series is relevant to every kind of employer – large or small..."
FOND DU LAC, WI (PRWEB) September 05, 2017
This Fall, Hierl Insurance begins a new educational series focusing on topics relevant to employers today. The series, held at Hierl's Training Center in Fond du Lac, will address compliance issues, cost control strategies and the value of leveraging benchmark data.
Soup to Nuts – Addressing Compliance for Labor and Employment Law Audits
Bob Simandl, Attorney, von Briesen & Roper, S.C.
Wednesday September 20 - 7:30-9:00 AM; Continental breakfast provided
Now is the time for employers to "audit proof" their company practices. Join us to learn where compliance may be off the mark and fix errors before the government comes to help.
Managing Health Care Costs - A Carrier Perspective
Keith Bell, VP Underwriting and Business Development, Network Health
Monday September 25 - 12:00-1:00 PM; Box lunch provided
Are rising healthcare costs keeping you awake at night? At this lunch and learn, let us help you explore options and strategies that will help you control costs while continuing to provide quality care for your employees.
Hierl UBA Benchmark Survey – A Client Perspective
Scott Smeaton, Executive VP and Tonya Bahr, Benefit Advisor, Hierl Insurance
Tuesday, October 3 - 7:30-8:30 AM; Continental breakfast provided
This is not your usual boring benchmark data. Join us as we share client perspectives and how they have leveraged survey data to create innovative and effective health plan strategies to stay ahead of the competition, to attract and retain talent, and to maximize plan designs for financial stability.
"This educational series is relevant to every kind of employer – large or small," said Scott Smeaton, Hierl Executive Vice President of Hierl. "Each topic will deliver employers the information necessary to stay compliant in the ever-changing landscape of employee benefits."
Business cards will be collected at each seminar to be placed in a drawing during the final session on Tuesday, October 3. Three participants will be drawn to win one of three prizes; a consultation session with Attorney Bob Simandl, a personalized UBA Benchmark review, and a Visa Gift Card. Participants can enter at each session attended.
To learn more or register for the Hierl educational series, visit our website or call (920) 921-5921.
About Hierl Insurance Inc.
A third-generation family owned business, Hierl's goal is for you to "Expect More and Demand Better." Since 1919, Hierl has earned the trust of Wisconsin employers by using insight and innovative technology to create unique strategies that protect business owners, their employees and their budgets. Hierl's mission is to provide clients with the wisdom and tools necessary to build a more engaged, productive and loyal workforce. With locations in Fond du Lac and Appleton, Hierl's expertise in employee benefits, commercial insurance, human resources and wellness creates a great business team. Learn more at hierl.com and connect with Hierl on Twitter, Facebook and LinkedIn.
###