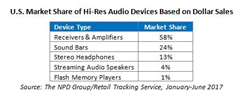 As more consumers get a chance to experience hi-res and as more content becomes available, sales growth of these devices will continue.
Port Washington, NY (PRWEB) September 06, 2017
Consumers have come to expect high definition viewing experiences, but what about quality listening? According to The NPD Group's Retail Tracking Service, since 2014, high resolution (hi-res) audio devices* have experienced steady growth with U.S. dollar sales increasing 77 percent in 2016 compared to 2014 and unit sales more than doubling over the same time period (118 percent growth).
"The success of 4K Ultra-High Definition in television illustrates that consumers desire high quality viewing experiences," noted Ben Arnold, executive director, industry analyst for The NPD Group. "Hi-res audio continues to build awareness among consumers; however, the sales growth we've observed demonstrates similar demand exists for high quality audio listening."
Year to date through June, stereo headphones are the fastest-growing hi-res audio category with 64 percent U.S. dollar growth when compared to the first half of 2016. Stereo headphones now make up 13 percent of the hi-res audio market, behind only receivers & amplifiers and sound bars.
Increased availability of hi-res products has been a key driver in market growth. From the first half of 2016 to the first half of 2017, the number of hi-res capable stereo headphone products on the market more than doubled (127 percent increase). During this time hi-res headphones also became more affordable with average sales prices decreasing 14 percent. Still, in the first half of 2017, the average price of hi-res headphones remained more than four times greater than non-hi-res headphones.
"New product introductions have helped spur the growth of hi-res across audio categories," said Arnold. "As more consumers get a chance to experience hi-res and as more content becomes available, sales growth of these devices will continue."
*Source: The NPD Group, Retail Tracking Service. High resolution audio devices include: flash memory players, receivers & amplifiers, sound bars, stereo headphones, and streaming audio speakers.
About The NPD Group, Inc.
NPD is the leading global provider of market information and business solutions covering brick-and-mortar, e-commerce, and emerging channels in more than 20 industries. We combine our unique data assets with analytic solutions to help our clients measure performance, predict trends, and improve results, advising them to help drive successful growth. Practice areas include apparel, appliances, automotive, beauty, books, consumer electronics, diamonds, e-commerce, entertainment, fashion accessories, food consumption, foodservice, footwear, home, juvenile products, mobile, office supplies, retail, sports, technology, toys, travel retail, games, and watches / jewelry. For more information, visit npd.com and npdgroupblog.com. Follow us on Twitter: @npdgroup.