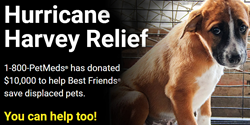 We are committed to saving pets' lives, and we are proud to partner with Best Friends Animal Society® to help save even more pets. ~ Alex Irvin, Director of Marketing at 1-800-PetMeds
Delray Beach, FL (PRWEB) September 06, 2017
Local and national pet rescue professionals and volunteers have sprung into action to help save the lives of pets left homeless and in danger following the ravages of Hurricane Harvey. In order to help, 1-800-PetMeds® has made a donation of $10,000 to Best Friends Animal Society®, who have mobilized a trained disaster response team of expert animal handlers to perform search and rescue efforts throughout the region.
Alex Irvin, Director of Marketing at 1-800-PetMeds® explains, "This catastrophic storm and its aftermath have impacted countless people, families, and pets. We are committed to saving pets' lives, and we are proud to partner with Best Friends Animal Society® to help save even more pets. They share our commitment and we know they will make great use of our resources to support the hard work of recovering and rebuilding the affected areas."
1-800-PetMeds® has also arranged to deliver pet supplies to Austin Pets Alive, a local pet shelter that is struggling to find and save pets who need help. The shelter is reaching out for help with their rescue efforts, requesting volunteers and donations to give Houston's homeless pets the care they so desperately need.
Pet lovers can also help the victims of Hurricane Harvey by temporarily providing foster care for displaced pets. 1-800-PetMeds®' partner, 911FosterPets is currently seeking foster parents for several hundred Houston-area pets who have lost their homes. Caring for displaced pets until they are reunited with their families or permanently placed in new homes is a great help to overburdened shelters during this difficult time.
Even if you are unable to make a donation, volunteer to help, or foster a pet, you can still help Hurricane Harvey relief efforts by sharing links to the above mentioned rescue groups currently working tirelessly to come to the aid of people and pets in need. To see all the ways 1-800-PetMeds® is helping the pet community in the aftermath of Hurricane Harvey, please visit Hurricane Harvey Relief at 1800PetMeds.com.
About 1-800-PetMeds®
Founded in 1996, 1-800-PetMeds® (NASDAQ: PETS) is America's Largest Pet Pharmacy®. It has been awarded online veterinary pharmacy accreditation by the National Association of Boards of Pharmacy®. The company delivers prescription & non-prescription medications and pet supplies for less, direct to the consumer through its 1-800-PetMeds® toll-free number, on the Internet through its website 1-800-PetMeds.com, or with the 1-800-PetMeds® mobile app.