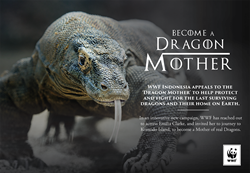 As the internet buzzes with conversations about dragons and season finales, WWF jumps on the opportunity and appeals to Emilia Clarke to come save Varanus komodoensis, the last real dragons left alive.
(PRWEB) September 06, 2017
The seventh season of the most epic show ended last week on a cliff hanger that virtually broke the Internet with conversations around #dragons and the pain of losing a dragon child.
WWF jumped on this opportunity by creating a personalised film and delivered it via Instagram, to Emilia Clarke. In the film she was invited to visit the remote and mystical Komodo Islands, in Eastern Indonesia, the only place left on Earth where 'dragons' still live.
The vulnerable dragons seek a mother to stand up and protect them.
Varanus komodoensis, or 'Komodo Dragons', as they're more commonly known, are the largest Lizard on the planet, and have been here for millions of years. However in modern times these fantastical creatures have come under threat because not only their islands but even the waters surrounding them are endangered by waste and irresponsible fishing and tourism. Less than 350 breeding females are left alive in the wild, and that number is set to fall.
WWF hopes this campaign will help shine a light on the plight of these rare and fascinating creatures. They have also alluded to a second phase of this campaign where they aim to inspire strong, Independent female leaders of the world to adopt the Dragons and fight to protect their home.
You can get behind the campaign by appealing to Emilia Clarke using the hashtag - #motherofrealdragons.