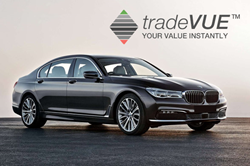 With TradeVue®, we are seeing increases in conversion rates as high as 120%
Jacksonville, FL (PRWEB) September 07, 2017
As a member of the largest third-party partner program in the industry, TradeVue® by E-Drive Autos is now part of a secure marketplace of applications and integration choices developed to help automotive dealers succeed.
"We are excited to be a part of the CDK Global Partner Program." said Derek White, CEO of E-Drive Autos. "With TradeVue®, we are seeing increases in conversion rates as high as 120% on other website platforms. I'm confident CDK websites could realize even larger returns from the tool."
TradeVue® is an interactive vehicle appraisal tool designed to maximize conversions and drive more leads on auto dealer websites. TradeVue® appraisals are generated instantly and displayed on a patent-pending Appraisal Diamond®. TradeVue® is also the first appraisal tool to offer Browsing Footprint Technology®, which sends the VIN numbers of vehicles customers are browsing without asking which car they are looking to purchase. TradeVue® affords dealers more flexibility in negotiations and provides buyers an accurate representation of value.
"We're very pleased to introduce TradeVue® as the newest member of the CDK Global Partner Program," said Howard Gardner, vice president and general manager, CDK Data Services. "TradeVue® is a welcome addition to our vibrant program that provides dealers with a range of partner choices and the assurance that their programs can be seamlessly integrated with our applications."
The CDK Global Partner Program provides members with access to a diverse CDK ecosystem through the ability to integrate with a range of CDK applications, as well as with CDK dealer websites.
With the addition of TradeVue®, The CDK Global Partner Program can now offer its members another valuable tool that their customers can use to improve their overall car buying experience.
About the CDK Global Partner Program
The CDK Global Partner Program now numbers 27,000 partner companies that together offer more than 30 unique applications auto dealers can use to run their businesses. As part of the CDK ecosystem, the CDK Partner Program provides data and workflow integration to a wide range of partners, including third parties, OEMs and dealers, in a secure and reliable manner. For a full list of partners and solutions available through the partner program, go to http://www.cdkglobal.com/partners.
About CDK Global
With more than $2 billion in revenues, CDK Global (Nasdaq: CDK) is a leading global provider of integrated information technology and digital marketing solutions to the automotive retail and adjacent industries. Focused on evolving the automotive retail experience, CDK Global provides solutions to dealers in more than 100 countries around the world, serving more than 27,000 retail locations and most automotive manufacturers. CDK solutions automate and integrate all parts of the dealership and buying process from targeted digital advertising and marketing campaigns to the sale, financing, insuring, parts supply, repair and maintenance of vehicles. Visit http://www.cdkglobal.com.
About E-Drive Autos
Based in Jacksonville, Florida, E-Drive Autos was founded in 2011 by Derek White, the founder of real estate data giant RealtyTrac. The company provides plug-n-play conversion technologies such as trade-in appraisals, price reassurance reports, market analytics, and other premium products that are used by hundreds of new and used car dealers across the country.