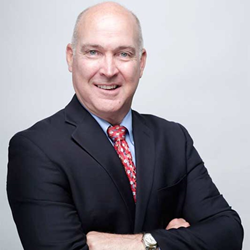 "Under the direction of Dr. Vincent Burton, Dr. Marc Penn and others, Okyanos has the breadth of scientific and technological expertise to be leaders in the field of regenerative medicine." -Bob Russell
Freeport, Grand Bahama (PRWEB) September 06, 2017
Okyanos Center for Regenerative Medicine announced today that Robert (Bob) Russell was named Director of Physician Engagement. In this role, Russell will identify and leverage key opinion leaders in healthcare delivery and medical research that share the belief in the promise of cell therapy for chronic health conditions. With this addition to the executive leadership team, Okyanos creates a stronger hold as the leader in cell therapy.
Russell began his career working with top pharmaceutical companies where he started developing working relationships with some of the top doctors throughout the country. This led to early stage opportunities in the laboratory diagnostic space and the initial commercialization of several forward-thinking laboratory companies including Cytyc Corporation (now Hologic), LipoScience and Cleveland HeartLab.
As Director of Physician Engagement, one of Russell's first priorities is to cultivate a broader awareness of both the safety and efficacy of regenerative therapies for certain unmet healthcare needs. To accomplish this objective, he will introduce Okyanos' new medical education forums and in the process bring together some of the most influential and pioneering medical leaders in the world.
"Okyanos provides adult stem cell treatments to patients with chronic conditions who seek advanced therapies beyond what is offered by the currently available standard of care," said Russell. "I am thrilled to be working with this team. Under the direction of Dr. Vincent Burton, Dr. Marc Penn and others, Okyanos has the breadth of scientific and technological expertise to be leaders in the field of regenerative medicine."
"Bob's background and experience makes him a great asset to our team," said Okyanos President Dr. Vincent Burton, MBBS, FRCA. "We are excited to develop meaningful connections with practitioners and to build on our physician engagement efforts. Okyanos' upcoming regenerative medicine symposium, taking place in September, will be a key part of this," he added.
To learn more about treatments offered at Okyanos, please visit http://www.Okyanos.com.
ABOUT OKYANOS CENTER FOR REGENERATIVE MEDICINE (OH – KEY – AH – NOS):
Combining state-of-the art technologies delivered in a cell therapy center of excellence, Okyanos Center for Regenerative Medicine is a leading adult stem cell therapy provider located in Freeport, Grand Bahama. Okyanos was founded in 2011 and is licensed and accredited by the Bahamas' National Stem Cell Ethics Committee (NSCEC) under the Bahamas Stem Cell Therapy and Research Act to provide cell therapy to patients with chronic medical needs that, per scientific research, clinical trials and application, can be safely treated with patients' own adipose-derived stem and regenerative cells. The literary name Okyanos, the Greek god of the river Okeanos, symbolizes restoration of blood flow.