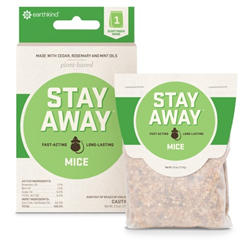 Bismarck, ND (PRWEB) September 06, 2017
EarthKind®, makers of high performance, plant-based, pest repellents, announces the launch of Stay Away® Mice, the latest addition to the Stay Away® family of products. Stay Away® Mice was created to replace Stay Away® Rodent with a new and improved formula featuring active ingredients that are four times more concentrated than its closest competitor. As with all Stay Away® products, Stay Away® Mice is fast-acting, long-lasting with no mess, no hazardous chemicals, and no pests guaranteed.
Stay Away® is the first pest prevention line made entirely out of plant-based ingredients including essential oils and plant fibers. Made with Cedar, Rosemary, Mint, and Sunflower Oils along with Corn Cobs, Stay Away® Mice repels pests with an odor that is offensive to mice, but pleasant to humans. It's safe for humans, pets and the environment.
Use indoors in mouse-prone areas such as basements, attics, garages and utility areas; anywhere mice may go to feed, nest, congregate, hydrate or gnaw on wiring for up to 60 days.
"It made no sense to me to attract Mice with bated traps & sticky pads only to catch and kill them, followed by disposing of their dead bodies. I knew it could be so much easier, so much more humane. That's why I started this company, that's why we've added Stay Away Mice to our household line," says EarthKind® Founder and CEO Kari Warberg Block.
EarthKind® manufacturing has a 2% carbon footprint certified by the USDA Bio-Preferred Program, which measures cradle-to-grave inputs and outputs, from farm to customer trash. In fact, EarthKind® is the first and only company to have its first plant-based repellent meet federal EPA efficacy standards for professional use, yet have no known health, safety or environmental risks.
Stay Away® Mice is available for purchase in select grocery, home improvement, lawn & garden and hardware stores nationwide and at earthkind.com/shop. Stay Away® is 100% guaranteed effective, or EarthKind® will refund customers' money.
Media interested in setting up an interview with Kari Warberg Block to learn more about EarthKind® and its new Stay Away® line of household-friendly pest control products, please contact Danielle Schufreider at danielle(at)adinnyc(dot)com or 212.693.2150 x314.
About EarthKind®
Founded by leading pest prevention expert Kari Warberg Block, EarthKind® is a pioneer in natural prevention for households everywhere. Its line of high performance, plant-based, pest repellent products provide effective, safe and natural ways to get rid of pests and bring inviting smells into your home. All EarthKind® products are made exclusively of botanical fibers and oils sourced from American farms and designed by inventive artists, scientists and engineers who care about the earth. EarthKind® products are made in the USA and the company provides handicapped individuals with meaningful employment. Kari was named to the EY Entrepreneurial Winning Woman Class of 2012, 2013 ND SBA Small Business Person of the Year and National Second Runner Up. Her latest product, Stay Away® was the winner of the 2015 NEXTY People's Choice Award for Best New Product of the Year. Learn more at EarthKind.com and on social media: