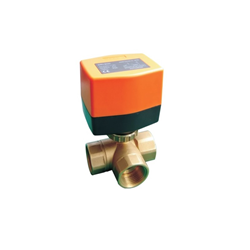 Deelat now selling industry's fastest motorized ball valve.
Torrance, California (PRWEB) September 06, 2017
Deelat industrial has been developing a fast running control ball valve for users in the industry who are looking to have more precision in their HVAC system or wherever quick open with proportional flow is required.
The latest motorized ball valve will have an open/close time of 4 seconds. It will also feature a self-detection function which means that you will not lose precision over time. Most motorized ball valves will lose the ability to stop precisely at the angle you have chosen. The new Deelat high speed actuator auto-detects its current position throughout by making the occasional stop for a few milliseconds to ensure that over time, it remains accurate.
This new Deelat motorized ball valve combination will consist of the high speed actuator, but also a 3-way stainless steel L-port ball valve. The L-Port ball valve is important in proportional control, since it allows the user to mix two different incoming media flows to an output.
The current design offers the valve in 304 SS construction, and has the option to come with V Plates installed for more a more controlled flow.
The components (including the seals and optional V plate) are compatible with elastomers and specifically 3M Fluorinert Electronic Liquid FC-3283. The setpoint signal is 4~20 mA. You must use a signal generator to run this device properly.
This is a favorite for engineers designing systems that require temperature control environments.
Interested consumers may begin purchasing the ball valves commencing September 5, 2017.