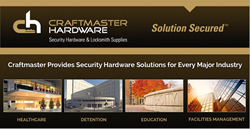 "We're delighted to be teaming with them – they really are a value-added distributor." - Bill Tell, PDQ President and CEO
Northvale, New Jersey (PRWEB) September 12, 2017
Craftmaster Hardware, LLC has partnered with PDQ Manufacturing as a Distributor for the Leola (PA) firm. PDQ is a leader in lock and hardware manufacturing including Bluetooth Cloud Based Access Control Solutions and Networkable security technology innovations.
Craftmaster Hardware is a nationwide supplier of security/commercial hardware and systems to institutional locksmiths serving schools, hospitals, commercial and industrial companies, institutions and government facilities. It is also a premier provider of detention hardware.
Founded in 1951 in New York City, Craftmaster Hardware is an especially influential security hardware supplier throughout the U.S. staffed with door hardware experts to support their clients.
"We represent many of the world's best-known lock and hardware manufacturers", said Tim Grogan, Craftmaster Hardware CEO. "When we became aware of PDQ, it impressed us – this is a manufacturer that combines product quality with excellent service and technological leadership. Their Smart Locks and Smart door hardware bring the latest in Bluetooth and networkable locks that appeal to our markets. Like us, they got their start as a family business, and they're still working like that today."
Bill Tell, PDQ President and CEO, praised Craftmaster's expertise and coast-to-coast reach. "This is a company that's flourished through a permanent commitment to staying abreast of systems and technology, as well as a comprehensive grasp of markets," he said. "We're delighted to be teaming with them – they really are a value-added distributor."
About Craftmaster Hardware
Craftmaster Hardware, LLC is a distributor of security hardware, detention hardware, and locksmith supplies representing the world's most recognized brands. Craftmaster serves institutional locksmiths in the Healthcare, Education, Corrections and Industrial markets.
To learn more, please visit us at http://www.craftmasterhardware.com.