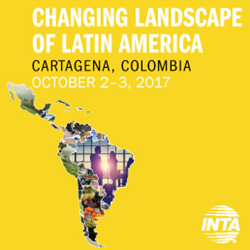 New York, NY (PRWEB) September 12, 2017
The International Trademark Association (INTA) will explore the impact on intellectual property (IP) of the vast economic, social, and political changes taking place throughout Latin America at a conference on October 2 and 3 in Cartagena, Colombia.
INTA's Changing Landscape of Latin America conference will highlight emerging opportunities and pitfalls as well as regulatory restrictions, enforcement strategies, protection, and technological advances that may affect both start-up and established companies doing business in the region. Sessions include online counterfeiting, guidelines for brand loyalty in a social media-driven world, how to measure and value a brand, balancing IP rights and regulatory restrictions, and the interrelationship between corporate social responsibility, sustainability, and brands.
The event reinforces the Association's growing focus on Latin America as the region becomes an increasingly important contributor to the global economy. On May 2, INTA celebrated the opening of its Latin America and Caribbean Representative Office, located in Santiago, Chile.
The conference is designed for IP professionals, attorneys, brand owners, brand protection professionals, entrepreneurs, and marketing professionals, and provides numerous opportunities for networking. It will be presented in English, and qualifies for Continuing Legal Education (CLE) credits and Continuing Professional Development (CPD) points.
Keynote speaker Francisco Samper, Founder/President, MullenLowe SSP3 and Regional Director, MullenLowe Latin America, Bogota, Colombia, will discuss how advertising campaigns influenced the Colombian peace process, drawing from his agency's award-winning work for Colombia's Ministry of Defense to demobilize the FARC guerilla program. Building on this, themes throughout the conference will examine the role brands and advertising play in the continued economic growth and investment opportunities in the region.
The more than 30 speakers represent well-known brands, including Grupo Televisa, Globant SA, Pepsico, Inc., Hard Rock International, Procter & Gamble, Alqueria S.A., Luxottica SpA, and Federación Nacional de Cafeteros de Colombia.
Following the conference, on October 4, INTA will host a workshop, Free Trade Zones: Commerce vs. Counterfeits, during which brand owners, free trade zone authorities, government officials, and other stakeholders will explore the ongoing threat of counterfeiting in free trade zones.
For more information and to register for the Changing Landscape of Latin America conference and the Free Trade Zones workshop, visit http://www.inta.org.
About the International Trademark Association (INTA)
The International Trademark Association (INTA) is the global association of trademark owners and professionals dedicated to supporting trademarks and related IP in order to protect consumers and to promote fair and effective commerce. Members include more than 7,000 trademark owners, professionals, and academics from more than 190 countries who benefit from the Association's global trademark resources, policy development, education, training, and international network. Founded in 1878, INTA is headquartered in New York City, with offices in Brussels, Santiago, Shanghai, Singapore, and Washington, D.C., and representatives in Geneva and New Delhi. For more information, please visit http://www.inta.org.
For media inquiries, contact:
Sari Schwartz
Senior Strategist, Communications, INTA
+1-212-642-1774
sschwartz(at)inta.org