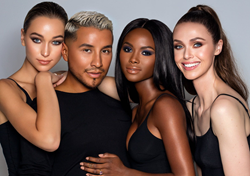 This collection was inspired by all the different kind of women I work with.
Atlanta, GA (PRWEB) September 06, 2017
Renowned for his A-list clientele, which includes Nicki Minaj, Kate Beckinsale, Mariah Carey, Christina Aguilera, Kourtney, Kim and Khloe Kardashian, and Kendall, Kylie and Kris Jenner, celebrity makeup artist Etienne Ortega has partnered with PÜR to create a must-have collection of highly pigmented, crease-free shades, all selected to evoke the makeup artist's signature style of effortless glamour. Offering shade combinations from matte to shimmer, the palette's smooth and velvety colors are buildable, blendable and look beautiful on any skin tone. Known for his motto: "Makeup is self-expression. No Rules, "Etienne offers the perfect palette to achieve multiple looks on global skin tones.
"This collection was inspired by all the different kind of women I work with," says Ortega. "I work with so many types of skin colors and ethnicities so I thought: Hmmm, what palette can every single one of my clients use? So, I created something versatile!"
The shade range includes everything from neutrals to mid-tones to a jaw-dropping highly pigmented midnight blue. All of the shades were personally named by Etienne and evoke a personal moment or memory in the artist's life: Adobe, Billionaire, Bossy, Dreamer, Faux, Galaxy, Legend, Lola, Midnight, Monii, Muddy, Paradise, Penny, Popular, Stripped, Zenon, 1988, 3 AM.
The PUR PRO x Etienne palette releases September 18, 2017 on Purcosmetics.com for $42.00.
About PÜR The Complexion Authority™ (PÜR): Known globally for intelligent beauty solutions, PÜR™'s signature complexion, skincare and on-trend color products provide immediate flawless results that nourish and improve the skin over time. Formulated with proprietary, age-defying ingredients like Ceretin Complex®, combined with good-for-your-skin antioxidants, each of PÜR™'s products corrects and perfects the skin, softening the look of lines and wrinkles while brightening the complexion.