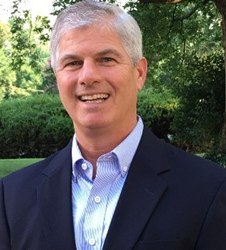 "By quantifying both energy savings and health & wellness benefits, ESCOs can realize larger monetized savings for ESPC projects," says McGowan.
HARBESON, DELAWARE (PRWEB) September 07, 2017
Joe will develop and lead a team to focus on local ESCO offices, using his experience in life-cycle cost justification of LED technology for Energy Savings Performance Contracting (ESPC) projects. "By quantifying both energy savings and health & wellness benefits, ESCOs can realize larger monetized savings for ESPC projects," says McGowan.
"Joe will utilize his experience in the Energy Services Industry to advance JAYKAL's LED lighting solutions for exterior and interior LED technology at the local ESCO market," noted Sanjay Kapuria, President of JAYKAL LED Solutions. "He has an excellent grasp of life-cycle costing, LED applications and appropriate operational savings benefits for ESPC projects. He has a passion for providing solutions that incorporate low-flicker, full color-spectrum LED products and we are very excited to have him on our team."
"At the recent FEMP Energy Exchange, our new LED Retrofit Kits with imbedded light controls for ceiling troffers had an incredible response from clients," reported Peter Randolph, VP Channel Sales at JAYKAL. "We are looking to capitalize on our Federal success with VA Hospitals and Military bases to expand our product offerings into our ESCOs' MUSH market accounts. Joe is the perfect person to lead the effort to expand our product growth in this sector."
JAYKAL recently announced their LevoLux tubular LED (TLED) series of lamps that perform with a low optical flicker of less than 1%. High optical flicker TLED lamps may cause issues in learning and healthcare environments as well as businesses that utilize optical scanners. JAYKAL's LevoLux series will eliminate these issues and provide a higher rate of return with increasing productivity by reducing eye strains, headaches and absenteeism. Educational studies have also shown that students' aptitude and test scores increase with full spectrum lighting that performs with low optical flicker.
"A study into the effect of Lighting on Children of Elementary Schools showed that students in classrooms with full-spectrum light, learned faster, tested higher, grew faster and had one-third fewer absences due to illness. Interestingly, they also had fewer cavities than expected," according to W. E. Hathaway, Journal of Educational Research in Alberta, Canada.
Before joining JAYKAL, Mr. McGowan led sales efforts at Honeywell International, Schneider Electric, Comfort Systems USA and Energy Focus. He obtained numerous sales and revenue growth awards at these companies as well as at industry associations, including being named Person of the Year for both BOMA (Buildings Owners & Manager Association) and IREM (Institute of Real Estate Managers) Associations. He is current a member of NAESCO's Affiliate Advisory Committee.
Mr. McGowan has an Interdisciplinary Studies Degree from Miami University (Ohio) with majors in Finance and Energy Management. When questioned about Miami University being in Ohio, he enjoys highlighting that Miami University was established in Oxford, OH 36 years before Florida became a State.
He and his wife, Laura, reside in Richmond, VA. They have three adult children.
About JAYKAL LED Solutions
JAYKAL LED Solutions (JAYKAL) is a vertically integrated manufacturer of an array of innovative LED lighting products of outstanding build quality, superior material, design and workmanship, which have been installed in many countries around the globe for commercial and industrial applications. JAYKAL has a Multiple Award Task Order Contract (MATOC) to supply LED lighting products & services through UNICOR (Trade name for Federal Prison Industries, a component of the United States Department of Justice) to other federal and civilian agencies. JAYKAL has also been awarded a Federal IDIQ contract for the Military Sealift Command valued at $14 million. We have successfully provided LED products to Federal, State and local governments, healthcare and educational institutions, commercial and industrial customers. Company headquarters is located in Harbeson, Delaware with assembly and distribution facilities in Arizona and Kentucky. For more information, see our web site at http://www.jaykalusa.com.