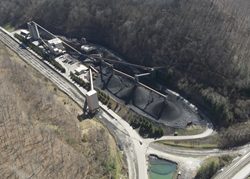 "The lease termination does not affect our core operating strategy for Knott County Coal, and provides the benefit of reducing our holding cost and reclamation liabilities at this operating subsidiary," stated Mark LaVerghetta, VP of Corporate Finance
FISHERS, INDIANA (PRWEB) September 06, 2017
American Resources Corporation (OTCQB: AREC), through its wholly owned subsidiary Quest Energy Inc. and Knott County Coal LLC, has further reduced the cost of its non-core coal mining assets located within this operating entity. This cost reduction is a part of the company's constant evaluation of its idled and active operations and have resulted in the reduction of its holding costs at its Knott County Coal complex by terminating the lease of its only non-owned coal preparation plant and related surface and mineral leases. Such reduction of costs is in line with the operational focus of the company, and does not reduce the company's coal mining, coal processing, or transportation capabilities given the other company-owned coal preparation plants and rail loadouts in the area.
The leases that were canceled encompasses thermal-quality coal reserves and a leased coal preparation plant and rail loadout, that was part of Quest Energy's purchase of ICG Knott County, LLC from Arch Coal in April 2016. Since the purchase, the leased coal preparation plant and rail loadout has remained idled and non-core to the rest of Knott County Coal's operations and geographically distant from the company's primary reserves in the region. This also enables the owner of the coal preparation plant to offer the facilities to other interested parties, which could provide other synergies to Knott County Coal's operations in the future. Once transfer of the permits and associated bonds is completed, it will significantly reduce Knott County Coal's holding costs in the region, as well as reduce its reclamation liability by over 37%.
"The lease termination does not affect our core operating strategy for Knott County Coal, and provides the benefit of reducing our holding cost and reclamation liabilities at this operating subsidiary," stated Mark LaVerghetta, Vice President of Corporate Finance. "Knott County Coal continued focus is on the specialty, industrial, and high-quality thermal coal markets that possess attractive margins from our current assets. Furthermore, this divestiture enables us to redeploy the cost savings towards further increasing our production in the area."
Knott County Coal's core asset base consisting mainly of the Supreme Energy Coal Preparation Plant, the Bates Branch rail loadout, and the eleven surrounding idled mines and reserves holding approximately 65 million tons of reserves under permit to feed the coal processing and loading complex. Knott County Coal is evaluating several coal sales opportunities and rehabilitating two of the mines to potentially be brought back into production later in 2017 or early 2018.
About American Resources Corporation
American Resources Corporation is engaged in diversified energy services including mining, processing and logistics, with a primary focus on traditional energy sources such as coal and oil and gas. American Resources Corporation plans to expand its business by continuing to develop its currently leased properties and further expanding its processing and logistics business, and through the pursuit of strategic acquisitions.
Contact:
Mark LaVerghetta, Director of Corporate Communications
investor(at)americanresourcescorp(dot)com
Special Note Regarding Forward-Looking Statements
This press release contains forward-looking statements. Forward-looking statements involve known and unknown risks, uncertainties, and other important factors that could cause the Company's actual results, performance, or achievements or industry results to differ materially from any future results, performance, or achievements expressed or implied by these forward-looking statements. These statements are subject to a number of risks and uncertainties, many of which are beyond the control of the Company. The words "believes", "may", "will", "should", "would", "could", "continue", "seeks", "anticipates", "plans", "expects", "intends", "estimates", or similar expressions are intended to identify forward-looking statements, although not all forward-looking statements contain such identifying words. Any forward-looking statements included in this press release are made only as of the date of this release. The Company does not undertake any obligation to update or supplement any forward-looking statements to reflect subsequent events or circumstances. The Company cannot assure you that the projected results or events will be achieved.