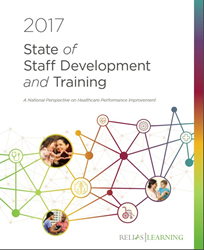 Cary, NC (PRWEB) September 06, 2017
Relias Releases 2nd Edition of State of Staff Development and Training in Public Safety Report
2017's larger, more comprehensive survey provides insights into a national perspective on public safety performance improvement.
Relias Learning, a trusted partner in online analytics, assessments and learning in the healthcare industry, announced today the release of the 2017 State of Staff Development and Training – Public Safety report. Designed for the leadership responsible for driving agency performance and the individuals responsible for overseeing and delivering training programs for agencies, the report provides an opportunity for organizations to 1) benchmark their current practices, investments, and beliefs against a national sample, and 2) spur discussion on how to improve staff development and training to fulfill their mission, and do so in a sustainable way. The report is available at no cost and can be downloaded here: 2017 State of Training - Public Safety report.
The 2017 State of Staff Development and Training – Public Safety report was designed to get a national perspective on five broad staff development and training issues:

The perceived business alignment, value and impact of today's staff development and training programs
Principal training drivers and emerging influences
Perceptions about the strengths and weaknesses of existing training programs
Current common practices in training management and delivery
Budgeting and the economics of staff development and training
A key finding of the report uncovered that 70% of respondents indicated that their staff development and training program had a substantial positive impact on avoiding liability. This was an increase from 52% in 2015. Compared to other service industries Relias surveyed, avoiding liability ranked the highest for the public safety industry.
"We were encouraged to find that nearly 90% of respondents indicated a strong desire for their staff development and training to support staff licensing or certification needs," said Mark Belles, Chief Operating Officer at Relias Learning. "However, only about half of the respondents consider staff development and training at the top of their agency's priorities. Use of effective technology may help agencies achieve greater compliance with external requirements, namely licensing and certification needs."
The survey was open during the period from March 14, 2017 through April 4, 2017. This report provides a synopsis of findings for 834 respondents in public safety. Data was received and processed by the Center for Outcome Analysis (COA), a non-profit research organization. The quantitative survey data was analyzed using SPSS and STATA statistical software.
"Our goal with this report is to engage decision-makers at public safety agencies, and address real challenges they face every day," said Jim Triandiflou, CEO of Relias. "The insights uncovered in this report provide a roadmap for public safety agencies looking to improve the performance of their employees."
About Relias Learning
Relias Learning provides online analytics, assessments, and learning for approximately 6,000 healthcare providers across the continuum of care, covering both physical and mental health needs, as well as public safety organizations. Relias offers unrivaled content, provides the ability for clients to create their own content, and allows for the demonstration of skill and performance, all in a singular, powerful learning management system. Learn more about Relias Learning at http://www.reliaslearning.com.
# # #