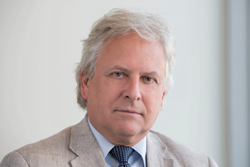 Prof. Diener's work helped establish migraine as a neurological disorder when many thought it was just a psychosomatic disease.
Cambridge, MA (PRWEB) September 06, 2017
Hans-Christoph Diener MD PhD from Essen, Germany has joined the clinical advisory board of Curelator Inc. to design and lead several multi-center global studies in headache disorders. These studies will use Curelator Headache, a digital migraine application, to measure the individual (N=1) impact of treatment interventions for each patient participating in the studies.
Alec Mian, the CEO and Founder of Curelator explains: "Prof. Diener's work helped establish migraine as a neurological disorder when many thought it was just a psychosomatic disease. His subsequent contributions to the field include identifying the factors that lead to drug-induced headache and co-authoring the guidelines that set a common standard for migraine drug trials. We are delighted to have him join our team to design the first global real world clinical studies that employ a patient-centric digital platform to measure outcomes of different treatment strategies." [1-6]
Dr. Diener adds, "The collection of real world clinical data combined with n=1 analytics to measure individual outcomes and develop individual patient profiles is becoming an increasingly important paradigm in medicine. This is the promise of Curelator."
Prof. Diener is currently Professor of Neurology, Chairman of the Department of Neurology and Director of the Essen Headache Centre at the University of Duisburg-Essen in Germany. He was formerly President of the German Neurological Society, President of the European Headache Federation (EHF), and the International Headache Society (IHS) and chairs the German Headache Consortium and the German Stroke Data Bank.
Prof. Diener has authored or co-authored 900 articles in peer reviewed journals (181 as first author, 19 in the NEJM), 324 invited reviews, and 343 book chapters, served as the editor or author of 81 books; and has been the Principal Investigator in more than 30 trials on the acute treatment and prophylaxis of headache disorders.
(1) Weiller C, May A, Limmroth V, Jüptner M, Kaube H, van Schayck R, Coenen HH, Diener HC (1995) Brain stem activation in spontaneous human migraine attacks. Nature Medicine 1:658-660
(2) Diener H-C, Wilkinson M, eds. Drug Induced Headache. Berlin: Springer; 1988:1
(3) Diener HC, Limmroth V. Medication-overuse headache: A worldwide problem. Lancet Neurol 2004; 3: 475–483
(4) Diener HC, Holle D, Solbach K, Gaul C. (2016) Medication-overuse headache: risk factors, pathophysiology and management. Nature Reviews Neurology 12:575-583 doi:10.1038/nrneurol.2016.124
(5) Limmroth V, Kazarawa Z, Fritsche G, Diener HC: Headache after frequent use of serotonin agonists zolmitriptan and naratriptan [Letter]. Lancet 1999;353:378.
(6) International Headache Society Clinical Trials Subcommittee m, Tfelt-Hansen P, Pascual J, Ramadan N, Dahlöf C, D'Amico D, Diener HC, et al. Guidelines for controlled trials of drugs in migraine: Third edition. A guide for investigators. Cephalalgia, 2012;32(1):6-38.
About Curelator Inc.
Curelator is a patient-centric digital platform that enables patients, clinicians and healthcare providers to optimize individual therapeutic pathways in chronic diseases with episodic attacks.
Our first application, Curelator Headache, is enabling neurologists specializing in both adult and pediatric migraine to conduct formal research studies on an N=1 basis that would not have been possible before.
Contact for further information: Sandy Bodner, sbodner(at)curelator(dot com), 617-549-8523