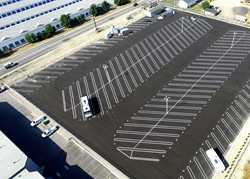 The new compound features a water station, sani-dump, wide turning aisles, and great security.
Kelowna, BC (PRWEB) September 07, 2017
As the last rays of summer start to burn off, Okanagan residents who have been out on the lake or on the road should now start looking to store their RVs and boats for winter. Space Centre Storage, the Okanagan's largest storage centre, has a brand new 157-unit Kelowna RV and boat storage facility that's big enough to store luxury motorhomes along with cars, trailers, and boats.
Located off Highway 97 at 3150 Sexsmith Road, the new outdoor compound is offered on a first-come, first-serve basis, so those looking for storage should reserve their spot as soon as possible. Space rental can be done by the month or by the year.
"The compound had its grand opening on July 8 and it has been a great success. The lot is starting to fill up," says Yvonne Rogers, Operations Manager at Space Centre Storage.
In the last two years, the need for Kelowna RV and boat storage has increased as the city's demographic welcomes more families and empty nesters into the area. Many live in multi-family developments or condos and spend their holidays in luxury RVs.
Located in a large compound, the new paved lot offers a secure storage space for those who live in condos or homes that do not have a big enough garage or driveway to park RVs or boats. Many strata or city bylaws restrict residents from parking RVs and boats on the street in front of their homes. Storage is not just a convenience; it's often a necessity.
Due to this need for storage, Space Centre Storage has always offered RV and boat storage at its main 380,000 square-foot self-storage personal and commercial facility, located close to the new compound.
"We have always maintained our first RV compound at 100 per cent occupancy so we then made the decision to expand and accommodate customer demand for larger spaces," says Rogers. "The Okanagan area does not have much in the way of convenient RV and boat storage, but now we have space for up to 45-foot motorhomes available."
The new compound also has many amenities to make it the most secure storage facility in the Okanagan.
"It features a water station, sani-dump, wide turning aisles, and great security, including razor wire fencing, video surveillance, after hours security patrols, and more," says Rogers.
With stalls at the new RV compound still available, Space Centre Storage is now more than ever a one-stop shop for those needing storage.
Space Centre Storage features many storage options, so customers can not only store their RVs, boats and cars, but their other personal and household belongings in a safe and secure self-storage facility that offers a variety of sized units at an affordable price.
Customers can take a tour of the full storage facility on Space Centre Storage's electric touring vehicle.
About Space Centre Storage:
Space Centre Storage in Kelowna has 30 years of experience in the storage industry. Residential storage services include self storage in a variety of units, the MI-BOX® portable storage containers, moving supplies, mailboxes, and outdoor boat and RV storage at its two facilities. Space Centre Storage also offers commercial self storage and lease space, mini-warehousing, and forklift and load docks for business customers.
For more information, please contact:
Yvonne Rogers
Operations Manager
Space Centre Storage
3530 Alcan Rd., Kelowna, BC
yvonne[at]spacecentrestorage[dot]com
250-765-4125
http://www.spacecentrestorage.com