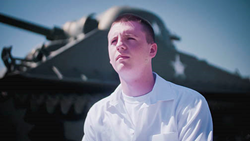 Veterans will be a key resource for meeting the US' dangerous shortfall of qualified cybersecurity professionals.
DENVER, Colo. (PRWEB) September 06, 2017
SecureSet — an immersive, accelerated cybersecurity academy — today announced the launch of the Cybersecurity Career Program for active-duty Soldiers in partnership with Fort Carson in Colorado Springs as part of their overall efforts to support the Military and Veterans as an organization.
Veterans will be a key resource for meeting the US' dangerous shortfall of qualified cybersecurity professionals. The Cybersecurity Career Program ("CCP") is designed to help active-duty Soldiers acquire environment-ready skills concurrent with their enlistment, backed by SecureSet's immersive, hands-on education model. The active-duty Soldiers will participate in SecureSet's five-month CORE Technical program, which prepares them for civilian careers as security engineers, penetration testers, security consultants or information assurance analysts.
"This program will give more active-duty Soldiers a rapid transition to the civilian workforce," said founder Bret Fund. "They can secure their careers, continue to serve their country and help a severely understaffed industry. We hope to find success and scale the program to more bases and branches."
"We are so excited to be able to add this outstanding opportunity to our Career Skills Programs at Fort Carson," said Sherry L. Jenkins, IMCOM Region 5 Career Skills Program Coordinator, Directorate of Human Resources, Ft. Carson. "The purpose of these programs is to bridge the gap in the skills that our transitioning Service Members have, what high demand industry is looking for, with a strong link to employment as they transition from active service to the civilian sector. We believe this program will do just that!"
Service Members within 6 months of transition from Fort Carson, Peterson and other area bases are eligible to participate. CCP students continue to receive their full stipend, can apply GI Bill funds, and receive sponsorship from employers looking to hire CCP graduates. For more information about the Ft. Carson CCP, please contact Martha Laughman, martha(at)secureset(dot)com.
About SecureSet
SecureSet offers the first immersive, comprehensive cybersecurity education programs in the U.S. — and the fastest route to entry-level careers in the field. SecureSet was launched in response to the global shortfall of cybersecurity professionals who will be needed to meet the rise in sophisticated threats worldwide.
SecureSet compresses the time required to achieve necessary skills and certifications from years to months. This intense, hands-on education ensures skills that are immediately applicable in working cybersecurity environments — 100% of the program's graduates have received job offers to date. SecureSet has campuses in Denver, Colorado Springs, and will soon launch in Tampa. For more information, please visit http://www.secureset.com.
# # #