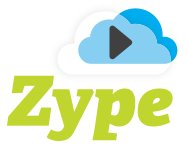 We knew that if our customers won, we'd win. That's why we chose to invest in their success with in-depth knowledge sharing and tactical guidance through Zype University
New York, New York (PRWEB) September 06, 2017
Zype, a cloud-based video distribution service for OTT, today launched Zype University, an online learning center that helps content networks, live streaming broadcasters, and creators build and scale their businesses. Zype's new education program is designed to help clients quickly achieve measurable results.
Zype U's self-guided core curriculum focuses on four tracks critical to OTT business success: monetization, audience development, content engagement, and marketing and promotion. For select clients, Zype U offers interactive consulting sessions with Zype's expert trainers who personally analyze each client's OTT business and develop customized business, content, and marketing recommendations.
"Early on, Zype recognized that content owners needed marketing support to help drive subscriptions, views, and rentals," said Ed Laczynski, CEO of Zype. "We knew that if our customers won, we'd win. That's why we chose to invest in their success with in-depth knowledge sharing and tactical guidance through Zype University."
Since 2016, Zype Sr. Director of Product Marketing Dan Manco has worked closely with nearly a dozen clients, testing and optimizing Zype University's educational and consultative approach. Manco takes a hands-on approach to each client's business analyzing their revenue, content, and marketing strategies to ensure they follow Zype U's best practices guidelines. Working with Zype U, clients have implemented direct response branding tactics, social media and experiential campaigns, landing page optimization, and conducted search campaigns.
In the coming weeks, Zype University is publishing new courses on OTT hybrid business models, direct response branding, marketing strategy, and analytical approaches to content and customers. Focused on helping clients quickly scale their businesses, Zype U's future coursework will cover OTT business fundamentals including consumer-level analytics, customer centricity, organic search, email database marketing, social media, watchability and shareability, live streaming, optimization and resource considerations.
About Zype
Zype is the cloud video distribution service for OTT that makes it easy for content owners to connect directly with their audiences on every screen. With Zype, enterprise content owners and brands can own and accelerate all aspects of their video distribution pipeline. Zype provides push button app publishing, monetization, streaming, audience management, and analytics that is integrated into hundreds of OTT apps and engaged by millions of viewers every month. Launched in 2014 and headquartered in New York with offices in Los Angeles, Zype is the 2015 SXSW Accelerator winner in the entertainment and content technology category. For more information, visit http://www.zype.com.