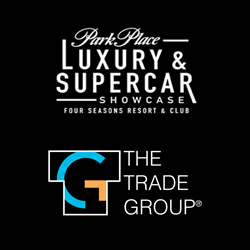 "We're grateful to Park Place Dealerships for inviting us to participate and look forward to this worthwhile and exciting event," says Gilvar.
Dallas, Texas (PRWEB) September 06, 2017
On September 9, 2017, The Trade Group will join forces with Park Place Dealerships and a host of other organizations to sponsor the 2017 Luxury and Supercar Showcase at the Four Seasons Resort in Las Colinas.
Along with featuring some of the world's most coveted luxury and high-performance vehicles – Maserati, Rolls Royce, Bentley, Bugatti, McLaren, Mercedes-Benz, Porsche, Lexus, Jaguar, LandRover, Volvo and others – the showcase will also offer a variety of high-end culinary, fashion and kid-friendly events.
According to The Trade Group's Co-Owner and EVP Malcolm Gilvar, "Our team is delighted to support Park Place Dealerships at this exciting, one-of-a-kind event. Along with putting on a spectacular event for luxury lifestyle and automobile aficionados, Park Place will raise funds for the Momentous Institute in Dallas, an organization committed to helping children achieve their full potential."
Park Place turned to The Trade Group to provide 12 branded tents with seating and two air conditioned portable OiO units, so executives of the automobile brands participating in the event have a semi-private space to meet with VIPs in attendance.
In addition, The Trade Group will also provide one of its new, contemporary AirClad XPO 6x5 mobile structures for use as a VIP lounge at the event. "Our design and event planning experts will customize the XPO portable structure inside and out and stock the space with seating, a place to charge cell phones, cold water and more," Gilvar says.
From design services to materials to installation, The Trade Group expects to donate more than $35 thousand toward sponsoring the event.
Gilvar and The Trade Group management team welcome the opportunity to support an event of this magnitude and the children who will ultimately benefit. As he explains, "The Luxury and Supercar Showcase is a big event for Park Place, the community of Las Colinas and the Momentous Institute. We're grateful to Park Place Dealerships for inviting us to participate and look forward to this worthwhile and exciting event."
To learn more about trade show, live event and experiential products and services available through The Trade Group, call 800-343-2005 or visit http://www.tradegroup.com.
About The Trade Group:
The Trade Group is a full-service, award-winning provider of products and services for trade shows, corporate events, retail environments and an endless array of face-to-face experiences and activations. The organization helps clients share their unique stories through a comprehensive suite of solutions that includes: exhibit design and fabrication, graphic design and production, exhibit management, digital applications, experiential marketing activations, event coordination and production, videography, strategic marketing and more.