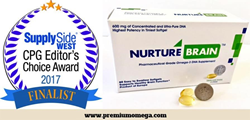 Nurture Brain's Top 5 Product nomination makes it the third one we've received in 3 consecutive years. This shows our Omega-3 DHA product quality.
Laguna Niguel, California (PRWEB) September 07, 2017
Informa Exhibitions has named Nurture Brain™ Omega-3 DHA by Anpas Global LLC as its finalist for the 2017 SupplySide CPG Editor's Choice Awards. Five consumer packaged goods (CPG) products were selected by the SupplySide editorial team for achievements in innovation and market impact in 22 different categories among 400 product submissions. Nurture Brain™ Omega-3 DHA made the Top 5 short list in the Brain Health Category.
"We are thrilled to receive this nomination for our newest product, Nurture Brain™. This makes it the third Top 5 product nomination we have received in 3 consecutive years. This goes to show that our high quality Omega-3 DHA products are no coincidence," says Sapna Misra, President of Anpas Global. "As a small company making its mark in a crowded Omega-3 market place, we welcome this honor and appreciate the CPG Editors for this recognition." Brain health is a growing concern among all populations and DHA is a scientifically proven nutrient to support healthy brain function.
Nurture Brain is Anpas Global's highest concentration Omega-3 DHA Fish Oil supplement delivering 600 mg of pharmaceutical grade DHA per dose for all adults. In January 2015, they entered the consumer health products space with Nurture Me®, the smallest size omega-3 DHA supplement for women. Within nine months from launch it was nominated among the Top 5 women's health supplement launches in the SupplySide CPG Editor's Choice Awards. The following year the company launched its second consumer product, Nurture Kids® DHA supplement for children, which was also nominated Top 5 Children's Health Product by the Supply Side CPG Editor's in August 2016.
The company's line of Omega-3 DHA supplements are made with ultra-concentrated triglyceride fish oil, especially formulated to prevent the smell and taste of fish. Each perfectly portioned easy-to-swallow softgel has 300 mg of DHA. Unlike bottled fish oil products, their brands come individually wrapped in Pharmaceutical Grade Blister Strip Packaging to preserve freshness and product stability. Each product comes with a Third Party Test Seal from Pace Analytical, an Independent Testing Lab and is certified for Mercury, Toxins and other Contaminants.
For 21 years, SupplySide has helped dietary supplement, food, beverage, personal care and cosmetic professionals find information to explore, discover, innovate and market their next best-selling product. The finalist in the brain health category will be announced at SupplySide West 2017 during presentations at SupplySide Central on Sept. 27 and 28 at Mandalay Bay Resort in Las Vegas, Nevada.
"In the past few years we have had tremendous success highlighting the products that are coming to market, driven by the innovative ingredients highlighted at SupplySide," said Heather Granato, vice president, content, in Informa's Global Health & Nutrition Network. "Our team was impressed this year at the range of products and out-of-the-box thinking that these companies are putting into product development to reach their target markets."
For more information, visit supplysideshow.com.
About Anpas Global:
Anpas Global is a supplier of high quality scientifically researched Nutraceutical raw materials since 2008 and an active member of GOED (Global Organization of EPA and DHA). Their portfolio includes the highest concentrations of EPA and DHA marine fish oils in the industry. In January 2015 the company entered the Consumer Health Products space with its flagship product Nurture Me®, a high concentration Omega-3 DHA for women 18 to 55 years. Their next launch, Nurture Kids® focused on children 8 years plus and provides 300 mg of pure DHA for brain, eyes and vision health. The company's newest product, Nurture Brain™ focuses on healthy brain function and delivers 600 mg of high concentration DHA for all adult men, women and seniors.
For more information on Nurture Brain, please visit: http://www.premiumomega.com or visit https://www.amazon.com/dp/B073KVM6J8
About SupplySide West: Hosted by Informa Exhibitions, SupplySide West brings together more than 15,000 ingredient buyers and suppliers from the dietary supplement, beverage, functional food, personal care and sports nutrition industries. SupplySide West is all about the science and strategy around the development of finished products that drive the global business economy. This year's event takes place Sept. 25 to 29 at Mandalay Bay in Las Vegas. For more information visit http://www.supplysideshow.com.