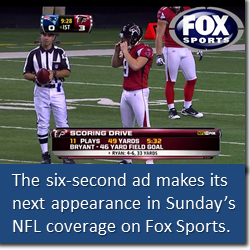 Advertisers who target younger viewers must get into the habit of making multiple versions of every commercial, including a 60-second spot, a 30-second spot, and even a six-second, bite-sized version.
Los Angeles, CA (PRWEB) September 07, 2017
With attention spans falling and competition among advertisers rising, the six-second video ad format introduced by YouTube last year has been embraced by the big leagues - network television.
Fox Network debuted the six-second format, also called "bumper" ads, at the Teen Choice Awards on August 13th and TV advertisers paid up to $75,000 for each spot. With its successful introduction, the network now plans to integrate the format into more youth-focused content and sports programming on the network's broadcast and cable TV properties. Football fans will see the shorter ads appear this Sunday, September 10th, when Fox broadcasts the N.F.L.'s first games of the season. The initiative taken by Fox marks the first time a broadcast television company has committed to the shorter ad format, one that resonates with younger viewers born between 1980 and the early 2000s.
"It's an ominous shift for any advertisers who are as concerned as I am that it's difficult, if not impossible, to build a brand or make a meaningful connection with consumers in just six seconds," said Scott Kowalchek, President and founder of DirectAvenue, a short-form DRTV media buyer in Carlsbad, CA. Kowalchek, like many TV ad experts, has seen a steady decline in advertiser interest for longer format, 30-minute infomercials and more interest in shorter, 30-second and 15-second spots. "While the 30-second spot is still the preferred format for older viewers – so-called baby boomers - younger viewers are spending more time online where the six second streaming video ad is now a standard format," said Kowalchek. "The Teen Choice Awards is just the beginning. Advertisers who have products targeting younger consumers must keep in mind that their customers are increasingly mobile and they need to consider producing shorter content to for their mobile customers."
A new study released by ComScore underscores Kowalchek's prediction. The study revealed that online ads targeting millennials must be 5 to 6 seconds in length to be effective, a sharp contrast from the traditional 30-second commercial seen on TV. The shortening attention span of millennial TV viewers has put pressure on advertisers to make shorter ads for social and mobile platform distribution. Now, it appears those same demands are being placed on content destined for broadcast and cable platforms as well.
Of course, the 30-second commercial is not expected to disappear and, in fact, remains the preferred format for older baby boomers but experts predict it will appear less often in broadcast media targeting younger viewers; viewers who are already used to seeing short video ads on platforms like Snapchat, Facebook, and YouTube. Online, the demise of the 30 second ad is expected to be much faster because of Google. By the end of 2017, the world's leading search engine will no longer allow 30 second commercials to run on YouTube unless commercials can be skipped.
While Kowalchek says six-second ads are simply too short to successfully tell a story that connects with consumers, it's a format all advertisers must embrace to stay competitive.
"Advertiser who target younger viewers must get into the habit of making multiple versions of every commercial they make for various platforms, including a 60-second spot, a 30-second, and even a six-second, bite-sized version," said Kowalchek. "They may not be planning it now, but their six second bumper may appear on broadcast TV a lot sooner than they think."