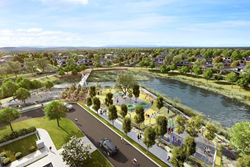 Melbourne, VIC (PRWEB) September 07, 2017
The remarkable new Aquarevo community in Lyndhurst in Melbourne's South East is showing Australia that a renewable eco-friendly life is possible right now. Winslow are proud to be a part of the genesis of this amazing new community.
Aquarevo is an exciting and ground-breaking collaboration in new residential development between Villawood Properties and state government water utility, South East Water. Through the smart use of innovative technology, this first-of-its-kind project delivers the most water and energy efficient urban residential development yet devised – and importantly, it can be replicated anywhere in metropolitan or remote Australia.
This ground-breaking project sets a new benchmark for what can be achieved in the creation of community development in terms of efficient water management and the harnessing of new energy technology with greater emphasis on renewables.
Aquarevo will be home to 1200 residents and will use three sources of water – drinking, recycled and rainwater – to help reduce drinking water use in each home by up to 70 per cent, making the community Australia's most water efficient greenfields housing development.
New communities like Aquarevo will support other government initiatives to help secure water supplies for current and future generations of Victorians, and it is a world-leading example of the "water smart" homes of the future
Paired with additional energy saving measures, such as solar panels installed as standard on all homes within the community and the provision for battery storage and electric vehicle charging points, the eco-friendly nature of this development truly sets Aquarevo apart in terms of innovative modern living.
Key innovations at Aquarevo include:

A rainwater tank and state-of-the-art hot water system in each home that directly supplies hot water service for all non-drinking household uses, reducing demand on potable water supplies by 70 per cent;
Tank Talk, a rainwater management technology that uses weather forecast data to optimise water storage, while also reducing stormwater run-off and urban flooding;
OneBox© technology system which monitors water and energy use usage levels in real time for maximum efficiency within the home;
An onsite treatment plant, which supplies the development with Class A recycled water, suitable for washing machines, toilets and outdoor use;
Generation of over 1000 MWh of renewable energy each year from solar panels installed as standard on all homes within the community;
Future proofing of each home through provision for battery storage and electric vehicle charging points, that could further improve the energy efficiency of homes as the green energy evolution continues.
Each home in the community will also be future-proofed to allow for potential advancements, including battery storage and electrical vehicle recharging, which would further improve energy efficiency.
Thanks to OneBox®, Aquarevo properties will be the first homes in Australia able to track and monitor all energy and water use in near real-time on a single app. Homeowners will be able to visualise usage patterns, and adjust usage behaviour to become even more water and energy efficient.
An intelligent pressure sewer system takes wastewater to a treatment plant on the estate, treats it to Class A standard, and returns it to homes for irrigation and toilets. These solutions are all underpinned by South East Water's intelligent OneBox® monitor and control technology, which was developed to make the water and wastewater systems smarter and more flexible.
The water recycling plant has been designed to look like a natural garden within a greenhouse and to blend into the surrounding landscape. For the first time in Australia it will use the Organica Food Chain Reactor process, which has a low energy footprint and contains odour within the structure.
Widely used in urban settings across Europe and China, this state-of-the-art treatment process combines natural and artificial root environments to provide a highly robust and energy efficient treatment process with a low carbon footprint.
The opportunity to work on this amazing urban development project is very exciting for leading civil construction group Winslow Constructors. The development offers some unique challenges to the team tasked with turning the site into one that works for the incoming residents, and is so much more than merely bulk earthworks. Physically getting this pressure sewer technology into the ground is fundamental to the success of the project, and it's the starting point in terms of measuring the savings and benefits that this project will deliver.
Winslow's Senior Project Manager, Salvatore Nicastro, commented: "We are delighted to be involved. Of all the communities we have helped to grow, this one has an added layer of complexity, both above and below the ground. But the extra effort is more than compensated for by the outcome. This will be the blueprint for many such developments moving forward, and our clients Villawood and South East Water deserve congratulations for this forward-thinking and innovative initiative."
Winslow CEO Trevor Lockwood said: "As we progress, it will become increasingly important that our civil construction and domestic homes are environmentally sustainable in so many ways. Our company does not exist in isolation from the world around us – everyone who works for us has children, family, and a stake in creating a secure future where we live as far as possible in harmony with our planet. Winslow is proud to be involved with Aquarevo, and we're giving it our all."