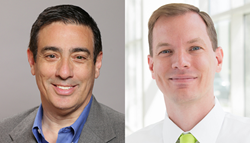 Expert insights to elevate Business Continuity and Disaster Recovery programs...
Philadelphia PA & Phoenix AZ (PRWEB) September 07, 2017
Business continuity planning and risk management experts from Strategic BCP® will be presenting key topics at Disaster Recovery Journal (DRJ) Fall World 2017, which will be held at the JW Marriott Desert Ridge Resort in Phoenix, Arizona on September 17-21.
Strategic BCP's presentation lineup includes:
"Gold Diggers & Business Continuity" presented by Christopher Duffy (CISSP) on Tuesday, September 19, 8:15-9:15 am (Breakout Track 4 – Session 4). Christopher will offer insights to help BC/DR professionals transform from a data gatherer into a "Big Data" analyst. He will use real world examples that can be quickly delivered from within a business continuity management (BCM) system. Christopher's popular presentation series also includes "The Lizard Brain & Business Continuity" that can be viewed on-demand here. He is the VP of Professional Services at Strategic BCP and former CIO and strategic IT/BC consultant across multiple industries.
"Life Safety in the Workplace: Are You Prepared for Active Shooters?" presented by James Green (CBCP, CUERME) on Monday, September 18, 4:15-5:15 am (Breakout Track 3 – Session 3). James will provide compelling insights surrounding active shooters in the workplace, regulatory and OSHA requirements, and guidance toward implementing a training program at your business as part of a BC program. He is a BC, Life Safety, and Crisis Management professional with over 17 years of industry-related experience. James has trained over 2000 people in Active Shooter Response.
Jay Geppert, Operational Risk Manager at PlainsCapital Bank and a Strategic BCP ResilienceONE® software client will join an informative panel discussion, "ERM, Security & Business Continuity" on Monday, September 18, 3:30-5:00 pm (Senior Advanced Track 2). He will offer his views on information security and enterprise risk management and the relationship to business continuity, how's its evolved, and where it's heading in the near future. View his ResilienceONE case study.
Strategic BCP is also a proud sponsor of DRJ Fall World 2017. At the conference, enterprise consultants will showcase the latest advancements and key capabilities of ResilienceONE in a "BCM Power Hour" on Monday and Tuesday, where lunch will be served.
During exhibit hours, attendees can visit Booth 407/409 to learn more.
About Strategic BCP
Strategic BCP is multi-award-winning business continuity risk management software and consulting company. 4x leader in Gartner's Magic Quadrant. #1 in Customer Satisfaction. Our ResilienceONE® software offers a comprehensive, intuitive way to manage enterprise risk, continuity, and resilience in one cloud-based solution. Highly configurable and compliant. Customization, long implementations, third party code, and additional investment not required. Put your plans into action in 5 business days. Identify impacts in minutes that normally take days to pinpoint. Over 500,000 cross-industry users worldwide. Our dedicated professional services organization helps navigate obstacles within BC to disaster recovery and strategic IT planning. For more information, visit http://www.strategicbcp.com, read the company blog, and follow us on Twitter, LinkedIn, and Facebook.