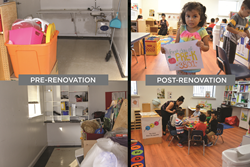 "Through our vision of transforming the world in which we live, we feel that it is important to focus on bettering the lives of the upcoming generation, as well as, the older generations in our communities. - Matt Peponis, President
Alexandria, Virginia (PRWEB) September 08, 2017
In partnership with The Child & Family Network Centers, Greenfield Senior Living is proud to support their efforts to provide schooling for low-income children in the Alexandria area. Through the funding and support of Greenfield Senior Living, these children and their families have access to high quality, free education, school supplies, food, and basic healthcare. Over the summer, Greenfield chose to further help these children, their families, and their teachers by renovating their classroom before the start of the school year. Renovations include fresh paint, new flooring and upgrades throughout to breathe new life into the space that encourages learning and thriving.
"Through our vision of transforming the world in which we live, we feel that it is important to focus on bettering the lives of the upcoming generation, as well as, the older generations in our communities. There is no greater honor than helping, serving, and supporting those in need." – Matt Peponis, President of Greenfield Senior Living
Greenfield Senior Living plans to continue working with The Child & Family Network Center supporting and encouraging these young children in anyway possible. This support includes a new opportunity for an intergenerational program that brings together the children and the residents from nearby Greenfield communities.
Greenfield Senior Living believes that to accomplish our mission and to truly live our core values, we must serve not only our residents, but the community as a whole.
About The Child & Family Network Centers
The Child & Family Network Centers, CFNC, is an Alexandria-based network of 8 free, high-quality bi-lingual preschools that provide low-income children with the tools they need to succeed in school and in life. CFNC fills a void ensuring that children of the working poor have ongoing access to preschool so that they start elementary school on par with their classmates.
Beyond preschool, CFNC helps the whole family by providing comprehensive educational and supportive services. CFNC was started in 1984 by a group of mothers living in a public housing community after they learned that 17 of their children failed kindergarten. From that modest beginning, CFNC has continuously grown both the reach and depths of its programs in response to community need.
About Greenfield Senior Living
The Greenfield Senior Living Mission: By building bridges between communities, we transform the experience of senior living and allow our residents to lead full and enriching lives. Through superior outcomes in resident care, exceptional dining experiences and unique social and recreational programs, Greenfield Senior Living out of Falls Church, Virginia has transformed senior living in each of its communities. Greenfield creates the future of independent living, assisted living, personal care and memory care programs. We are privileged to have the opportunity to make a difference in the lives of our extended family. Integrity is the heartbeat of our organization, ensuring our residents and care teams are always treated with respect and dignity. As of August 2017, Greenfield is entrusted to care for over 1,300 residents throughout 6 states, and employs roughly 1,200 employees who passionately share the Greenfield mission and core values.
For further information, please contact:
Jonathan Barbieri
Vice President, Marketing
Greenfield Senior Living
125 N. Washington Street
Falls Church, VA 22046
jbarbieri(at)greenfieldseniorliving(dot)com
Or visit our website at: http://www.greenfieldseniorliving.com