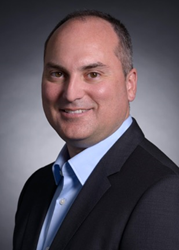 "Tamir's experience and marketing expertise will help us deliver Kenna's innovative platform to meet the growing market demand for risk-based intelligence solutions." - Karim Toubba, CEO at Kenna Security
San Francisco, CA (PRWEB) September 06, 2017
Kenna Security, Kenna, a vulnerability and risk intelligence platform that enables organizations to measure and monitor their exposure to risk, announced today that security industry veteran Tamir Hardof has joined its executive leadership team as vice president of marketing.
In his new role, Hardof will lead all corporate, partner, and product marketing, including branding, demand generation, and sales development. He will work to expand awareness for Kenna Security's offerings, bring new products to market, and develop strategic partnerships.
"We're seeing significant demand from Fortune 500 companies that are looking for a risk-based approach to address security challenges, prioritize their work, and increase efficacy," said Karim Toubba, CEO at Kenna Security. "Tamir's experience and marketing expertise will help us deliver Kenna's innovative platform to meet the growing market demand for risk-based intelligence solutions."
Hardof comes to Kenna with more than 20 years of experience marketing enterprise security products at multiple startups and public companies. Most recently he was CMO at WhiteHat Security, a leader in application security testing, where he refocused, expanded, and elevated the role of the marketing team, and led the implementation of an account-based marketing initiative that increased marketing contribution to the sales pipeline by more than 35 percent. Prior to his role at White Hat, he was vice president of product marketing at Fortinet, responsible for a portfolio of over 40 products and driving the company's emerging threat intelligence initiative. He also previously held marketing leadership positions at Juniper Networks and Check Point Software.
"Kenna's innovative platform offers great value to both IT and security departments that are overloaded and challenged by the volume of security threats to their organization," said Hardof. "Kenna's data-driven approach provides an opportunity for the company to take a leadership position in addressing this challenge."
About Kenna Security:
Kenna Security is a vulnerability and risk intelligence platform that accurately measures risk and prioritizes remediation efforts before an attacker can exploit an organization's weaknesses. Kenna Security accomplishes this by automating the correlation of customer vulnerability data, threat data, and zero-day data, analyzing security vulnerabilities against active Internet breaches. For more information, visit kennasecurity.com. Follow us on Facebook, Twitter, and LinkedIn.
Media Contact:
Guyer Group
Alison Kenney
alison.kenney(at)guyergroup.com
781-990-3729