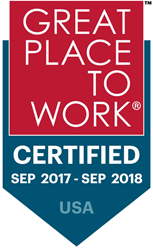 Asheville, NC (PRWEB) September 07, 2017
Aeroflow Healthcare, an Inc. 5000 fastest growing company, was recognized as a Great Place to Work certified company for 2017. This award acknowledges businesses offering top-notch benefits to employees through the provision of quality workplace accommodations, competitive wages and benefits, and a positive work culture.
"Our mission for the last few years has been creating a workplace where people are able to be their best; where their jobs are both fun and impactful," said Katie Combs, Chief Culture Officer at Aeroflow Healthcare. "This award is such an honor because it represents our journey. It represents hard work, collaboration, team energy, and most of all, our Aeroflow family."
The Trust Index survey reported that 79 percent of Aeroflow employees say their workplace is great. 92 percent of employees praised the company for the positive atmosphere, and also positively rated the workplace for its good communication and great bosses.
The Great Place to Work Institute is dedicated to promoting positive, supportive and employee-approved workplaces. Boasting over 30 years of experience in culture research and consulting, Great Place to Work is a global authority on workplace culture.
"We applaud Aeroflow Healthcare for seeking certification and releasing its employees' feedback," said Kim Peters, Executive Vice President of Great Place to Work's Certification Program. "These ratings measure its capacity to earn its own employees' trust and create a great workplace - critical metrics that anyone considering working for or doing business with Aeroflow Healthcare should take into account as an indicator of high performance."
Aeroflow's company perks and programs include a strong focus on community service, engagement with coworkers, as well as a focus on physical and mental wellbeing. Aeroflow hosts free yoga classes and personal training classes for employees weekly, and employees frequently represent the company in local charity runs. Aeroflow also holds a quarterly success summit in which employees can attend a workshop taught by Aeroflow's top performers. The class gives employees an opportunity to learn from senior staff members who are experts in their field.
Aeroflow also offers work-life balance programs including a telecommute option (10% of employees use it) and flexible scheduling (85% of employees use it). Beyond the workplace, Aeroflow is dedicated to serving others. The company so far has donated $50,000 to charitable causes, including donations to Mission Children's Hospital, Western Carolina Rescue Mission, the NC Autism Society, MANNA FoodBank and the American Lung Association.
About Aeroflow
Aeroflow Healthcare is recognized as the premier provider of durable medical equipment (DME) and service in the Southeast and continues to grow nationwide. Aeroflow is an accredited Medicare and Medicaid provider and accepts most commercial insurances. For more information, visit aeroflowinc.com, or call (888)-345-1780.
About Great Place to Work®
Great Place to Work® is the global authority on high-trust, high-performance workplace cultures. Through proprietary assessment tools, advisory services, and certification programs, including Best Workplaces lists and workplace reviews, Great Place to Work® provides the benchmarks, framework, and expertise needed to create, sustain, and recognize outstanding workplace cultures. In the United States, Great Place to Work® produces the annual Fortune "100 Best Companies to Work For®" list and a series of Great Place to Work® Best Workplaces lists including lists for Millennials, Women, Diversity, Small and Medium Companies and over a half dozen different industry lists.