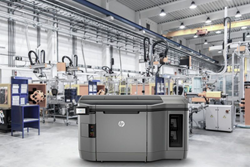 delivers superior quality physical parts up to 10 times faster and at half the cost of current 3D print systems - HP
Somerset County, NJ (PRWEB) September 07, 2017
SICAM Corporation announced today they now offer the latest in 3D printing services using HP's Multi Jet Fusion 3D Printing Technology. A breakthrough in design, prototyping and manufacturing, "delivers superior quality physical parts up to 10 times faster and at half the cost of current 3D print systems" - HP.
SICAM engineers and executives expect this new equipment to provide superior products for clients at faster rates with more economical options.
Selecting Multi Jet Fusion
Benefits:

High resolution with extreme accuracy
Engineering grade thermoplastics
Durable nylon parts with superior mechanical properties
High strength / High temperature
Production volume capable
Fast delivery - 2-4 days
Applications:
Direct manufacturing
Short-run production of complex parts
Functional prototypes
Manufacturing fixtures
For more information, visit our Multi Jet Fusion 3D Printing Services Page.
About SICAM Corporation
Recognized as one of the pioneers in the 3D Printing / Rapid Prototyping industry and incorporated in 1990, SICAM is an engineering driven company comprised of highly technical personnel. With extensive experience in design and manufacturing and the implementation of advanced computer aided manufacturing technologies, our technical staff has a solid foundation of in-house CAD/CAM and manufacturing technologies. SICAM offers our clients a full range of rapid product development services, from concept thru production.
SICAM is proud of the fact that we have a large domestic and international client base using our services since the early 1990's. In the US, we have clients in 38 of the 50 states in a wide variety of industries: Aerospace, Automotive, Computer, Consumer, Government, Industrial, Medical, Pharmaceutical and Telecommunications.
Contact
To learn more about this technology, please contact
Peter Sayki, SICAM President
1 Harvard Way # 1, Hillsborough Township, NJ 08844
Office: 908-685-2211
CustomerService(at)sicam(dot)com