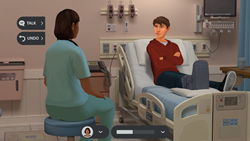 New York, NY (PRWEB) September 07, 2017
NORC at the University of Chicago and New York-based health simulation company Kognito today announced that they have entered a partnership to reduce the health toll of alcohol and other drugs among adolescents. Their first step in dealing with this problem is expanding substance use Screening and Brief Intervention (SBI), an evidence-based prevention service used by healthcare practitioners and that centers on collaborative conversations with adolescents. To accomplish that goal, the partners have developed an online role-play simulation, SBI with Adolescents, that can rapidly instill and assess clinical skills and collaborative communication techniques for health professionals through practice with virtual patients.
The partnership combines the public health expertise of NORC with Kognito's lifelike virtual adolescent patients - who are coded with their own personality, memory and medical condition, and who mimic real-life behavior. The resulting simulation, SBI with Adolescents, is an interactive role-play simulation designed to prepare nurses, social workers, and other health professionals to screen adolescents for alcohol and other substance use, perform brief interventions using motivational interviewing techniques, and refer patients to specialized treatment when needed. Since its release, the simulation has already been adopted by more than 75 schools of health professions and more than a dozen government agencies and nonprofit organizations.
"We saw the need for a new, innovative approach for SBI skill development for clinicians in practice and in training," said Eric Goplerud, Senior Fellow in NORC's Public Health department. "Kognito's simulation technology and its use of realistic, emotionally-responsive virtual adolescent patients to practice clinical encounters is the next generation of clinical training. It lowers the costs, complexity, and instructional limitations of having to hire and train actors to play the role of patients in uncomfortable role-plays."
"NORC is a leader in SBI research and implementation to help reduce the use of alcohol and other drugs among adolescents," said Ron Goldman, CEO of Kognito. "Working together, we are excited to be able to make their expertise available to almost any healthcare provider using our mobile and online simulation platform, allowing broad reach and access to training even in rural areas."
The simulation:

Utilizes interactive role-play conversations with three virtual adolescents.
Has been shown in recent studies to produce major improvements in practitioner skills in managing these conversations and is CE-certified.
Assesses users based on their dialogue decisions and provides a score and performance dashboard.
About Kognito
Kognito is a health simulation company that believes in the power of conversation to change lives. We are pioneers in developing research-proven, role-play simulations that prepare individuals to lead real-life conversations that result in measurable changes in social, emotional, and physical health. Our growing portfolio of simulations is used by 300+ leading health, education, government, and nonprofit organizations for professional development and public education. To date, more than 1 million people have engaged in a Kognito simulation. Kognito is the only company with health simulations listed in the National Registry of Evidence-Based Programs and Practices (NREPP). Learn more at http://www.kognito.com.
About NORC at the University of Chicago
NORC at the University of Chicago is an objective, non-partisan research institution that delivers reliable data and rigorous analysis to guide critical programmatic, business, and policy decisions. Since 1941, NORC has conducted groundbreaking studies, created and applied innovative methods and tools, and advanced principles of scientific integrity and collaboration. Today, government, corporate, and nonprofit clients around the world partner with NORC to transform increasingly complex information into useful knowledge. Learn more about Integrating Adolescent SBIRT Throughout Social Work & Nursing School Education at: http://sbirt.webs.com.