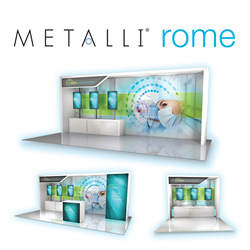 The METALLI Rome was designed with the flexibility to include seating, presentation spaces, A/V equipment and beyond. Whether the goal is to spotlight products, educate prospects or provide meeting space, the Rome inline can be modified appropriately.
Dallas, Texas (PRWEB) September 07, 2017
When The Trade Group decided to design a new inline display for their METALLI® line of trade show exhibits, providing plenty of options for customization – both from a design and a functionality perspective – was a key goal. The METALLI Rome 10'x20' and 10'x10' inline displays deliver.
 
TTG's design team also wanted to provide a high level of design and capitalize on the modern exhibit design trends their customers love. The Rome is truly a versatile exhibit, because it offers:
 

Multiple graphic elements – prime for customization.
Popular light box and SEG fabric graphic options.
Anything but generic design features and accessories.
The flexibility to address a wide range of functional needs.
Plenty of storage with an optional closet and a complementary credenza.
 
The Trade Group can help transform a METALLI Rome inline into a custom-looking display that tells a brand's story, and it is available for both purchase and rental.
 
Customizing a METALLI Rome display is as easy as 1, 2, 3!
 
STEP 1: Get inspired by the Rome's standard design features and options.
Even before customization begins, the Rome inline display looks fresh, modern and high-end – and it includes plenty of storage. In Rome's "native state" it includes:
 

Clean custom paneling.
Drop down header with backlighting – opt to profile cut the logo or message into the header for more pizazz.
Three large graphic displays – choose from light box, frontlit graphics or opt for a video message using monitors. (The customizable fabric graphics can be easily swapped in and out as needs change.)
Elegant storage credenza with sliding doors.
Optional storage closet.
Recessed lighting and more.
 
STEP 2: Add options that address functional needs.
The METALLI Rome was designed with the flexibility to include seating, presentation spaces, A/V equipment and beyond. Whether the goal is to spotlight products, educate prospects or provide space for semi-private meetings, the Rome inline display can be modified accordingly. Some options include:
 

Kiosks with video displays.
Product demo stations.
Shelving for product displays.
Seating areas for meetings.
Reception counter for greeting guests.
 
STEP 3: Inject brand messaging and personality into the space with custom graphics, accessories and more.
From the drop down header to large fabric light boxes and frontlit graphics, nearly every inch of space in the Rome display can be customized. The Trade Group also offers a variety of flooring options for the METALLI Rome inline display.
 
Choose from a wide variety of trade show flooring materials, colors and finishes in carpet, rollable vinyl, interlocking pieces, hardwood and more. TTG also offers custom printed flooring, which can be used to reinforce branding, assist guests with wayfinding and for educational purposes.
 
Goodbye generic, hello gorgeous
 
The Trade Group can breathe new life into trade show programs with a customized, Rome inline display or one of the many other innovative designs in TTG's METALLI line of modular trade show displays.
To learn more about trade show, live event and experiential products and services available through The Trade Group, call 800-343-2005 or visit http://www.tradegroup.com.
About The Trade Group: 
The Trade Group is a full-service, award-winning provider of products and services for trade shows, corporate events, retail environments and an endless array of face-to-face experiences and activations. The organization helps clients share their unique stories through a comprehensive suite of solutions that includes: exhibit design and fabrication, graphic design and production, exhibit management, digital applications, experiential marketing activations, event coordination and production, videography, strategic marketing and more.