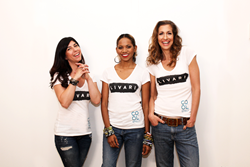 With so many shared values and goals, Cool Effect was an easy choice for LIVARI when looking for a partner to help us take action and reach net zero emissions. - Alysia Reiner
San Francisco, CA (PRWEB) September 07, 2017
Cool Effect is excited to take a step into the world of sustainable fashion and is announcing a partnership with LIVARI, a new zero waste, women-led, women-designed label collaboration by actress and environmental activist, Alysia Reiner, celebrity stylist, Claudine DeSola, and designer and Women's March organizer, Tabitha St. Bernard-Jacobs. Cool Effect – a non-profit supporting carbon reduction projects with consistent crowdfunding across the globe – is helping the Brooklyn, New York based LIVARI achieve net zero emissions.
LIVARI is already ahead of the curve for sustainability practices in the production of their line. This includes use of responsible fabrics and materials, local printing and manufacturing, and using unique techniques for minimal waste such as using excess rust to hand dye silk and cotton, and replacing silk with cupro, which is a regenerated cellulose fiber derived from cotton linter. Ethically made production efforts aside, LIVARI is committed to doing even more to offset the production of the line and has retired 25 tonnes of carbon with Cool Effect to achieve net zero greenhouse emissions. The partnership will officially kick-off at the debut of the inaugural collection on Wednesday, September 13 at New York Fashion Week as part of Kia STYLE360.
"I've been a long time personal supporter of Cool Effect, an organization committed to science, transparency, and to the idea that anyone, anywhere can join the battle against climate change," said Alysia Reiner. "The fashion world isn't exactly famous for being environmentally minded, but that doesn't mean it isn't full of people who are ready to fight for Earth. With so many shared values and goals, Cool Effect was an easy choice for LIVARI when looking for a partner to help us take action and reach net zero emissions."
Cool Effect currently features 11 carbon reduction projects on its platform, with efforts ranging from protecting acres of forest in Peru to installing efficient cookstoves in Uganda. LIVARI has chosen to support a biogas digester project in Bagepalli, India which converts cow dung into clean biogas. Support of this project contributes to a reduction in carbon pollution, air pollution, and water pollution while also helping with waste management, soil fertility, and forest conservation. By reducing methane emissions, LIVARI is helping fight climate change one retired tonne of carbon at a time.
"Cool Effect allows conscious consumers to take immediate action to help the planet while still living their lives: going to work, buying new clothes, blow drying their hair, etc.," said Marisa de Belloy, CEO of Cool Effect. "We're thrilled about the partnership with LIVARI because fashion is a part of life and LIVARI shows consumers that it can be done in a sustainable and conscious way."
In addition to retiring carbon tonnes to cover the initial footprint of the line, LIVARI is also enabling its customers to directly fund the same clean biogas project by including a tax-deductible contribution of one tonne of carbon mitigation into the purchase price of a limited edition t-shirt featuring a custom design from distinguished artist Hodaya Louis. The LIVARI runway collection will be showcased at the Caravan Stylist Studio showroom at The Gregory Hotel in New York City beginning on September 14th, and will be available for purchase online at LIVARIclothing.com. Individuals can confidently purchase items that are net negative in terms of emissions. For more information on Cool Effect and how you can support a project today, visit CoolEffect.org.
About Cool Effect™ :
Cool Effect is a San Francisco Bay Area 501(c)(3) non-profit that allows individuals to create a tangible impact on climate change through a digital platform, providing consistent funding to the highest-quality carbon reducing projects around the world.
Cool Effect was founded on the passionate belief that individual support of projects will create a cumulative effect that will reduce and prevent carbon pollution. Like the Butterfly Effect, The Ripple Effect, and others, a single action can have global impact. The organization's mission is to ignite planet sized change. To learn more, please visit cooleffect.org or follow Cool Effect on Facebook, Instagram and Twitter.
About LIVARI:
LIVARI is a zero waste womenswear label made ethically in New York. LIVARI disrupts industry norms with a community approach to design coupled with innovative shopping experiences that speak to the need for multi-functional clothing. The LIVARI woman is a consummate lover of thoughtful design.
Media Contact
Demonstrate PR
Victoria Rainone
415.400.4214
CoolEffect(at)demonstratepr.com