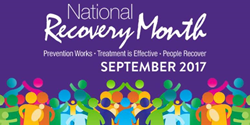 Chicago, IL (PRWEB) September 07, 2017
Gateway Foundation Alcohol & Drug Treatment Centers is pleased to announce two events this September in honor of National Recovery Month. First of which is the 2017 Aurora Recovery Walk, at 10:00 a.m. on Saturday, September 23rd 2017, at Gateway Aurora (400 Mercy Lane Aurora, IL 60506).
The public is invited to this free event, where participants will meet at Gateway Aurora and walk a 1-mile course around the adjacent Presence Mercy Medical Center campus. The course ends at Gateway Aurora as well, where participants can tour the site, listen to alumni speakers, enjoy a light lunch, and win raffle prizes. No registration is required for this event.
The purpose of the Aurora Recovery Walk is to acknowledge and celebrate the gains made by those in recovery. Gateway Aurora hopes to spread awareness that treatment can, and does, support individuals in achieving recovery and living a healthy and rewarding life.
The 2nd Annual, One Stride at a Time: 5K Run/Walk to End Drug Overdose is the Saturday following the Aurora Recovery Walk, on September 30th, 2017. All proceeds of the race will benefit the Lake County Opioid Initiative and Gateway Lake Villa' s Naloxone Distribution Program.
The 5K will take place, rain or shine, at Hastings Lake in the Lake County Forest Preserve, located at 21155 W. Gelden Road, Lake Villa, IL 60046. All ages and fitness levels are welcome to join. The 5K (3.1 mile) run/walk will begin at 8:30 a.m., followed by the Youth 1K Fun Run, which will start at 9:30 a.m.
Participants can register online at RecoverGateway.org/race. Online registration will be open until 12 p.m. on Thursday, September 28th. Additionally, people can register at packet pick-up on Friday, September 29th from 4 p.m. to 6 p.m. at Gateway Lake Villa (25480 W. Cedarcrest Lane, Lake Villa, IL 60046).
Participants may also register the morning of the race, but to guarantee their requested t-shirt size, they are encouraged to register online by September 28th. The fee is $35 for the 5K and $15 for the Kids Fun Run. Gateway Employees receive a special rate of $20.
Participants will receive a t-shirt, various giveaways, and will also be entered to win raffle prizes. After the race, participants are welcome to refuel with bagels and other light snacks and refreshments. Gateway wishes to thank all 5K sponsors, including TASC, Sodexo, Kaufman, Hall & Associates LLC, Footprints to Recovery, Soft Landing Interventions, Greater Wisconsin Employee Assistance Professionals Association, Live4Lali, Johnson & Johnson, Chicago Behavioral Health Hospital, Protiviti, Citizens for Mike Nerheim, the Village of Mundelein, and New Vision Print & Marketing Services.
If an individual does not want to run or walk but still wants to help out, volunteers are welcome. A variety of positions are open, in which one can sign up online here. Stay updated on the 5K with Gateway's Facebook and Twitter pages and be sure to visit our YouTube channel after the race to revisit the day's fun.
The goal of the run/walk is to raise awareness of and funds for preventing drug overdose. Gateway's Naloxone Distribution Program helps to decrease the fatalities caused by overdose. Naloxone, an opiate antagonist that reverses the effect of overdose from opiates such as heroin, can provide a window of opportunity to save a life until emergency medical help arrives.
The Lake County Opioid Initiative was started to address the rapidly increasing opiate problem in Lake County, in which 69 Lake County residents have died due to heroin and other opiates—doubling in just 5 years. Lake County State's Attorney Mike Nerheim called on local stakeholders to develop a comprehensive opioid prevention strategy for Lake County. Several groups, including Nicasa Behavioral Health Services, Live4Lali, the Lake County State's Attorney's Office, George Filenko Chief of Round Lake Park Police Department and Commander of the Lake County Major Crimes Task Force, and Roosevelt University's Illinois Consortium on Drug Policy, worked together to develop the outline for the opioid prevention plan—considered a model for Illinois, and for the nation.
About Gateway Alcohol & Drug Treatment
Since 1968 our goal has been straightforward: to help clients get their life back on track and achieve a life of sobriety, free from drug use and symptoms of mental illness, that is productive, socially responsible, and healthy. Gateway Foundation is the largest nonprofit treatment provider in the country that specializes in the treatment of substance use disorders, providing treatment for men, women, adolescents, and clients diagnosed with co-occurring mental health disorders.
Gateway's Community Division has treatment centers located throughout Illinois, including Carbondale, Chicago, Lake County, Fox Valley, Springfield, and the St. Louis Metro East area. These centers offer residential and outpatient treatment services for adults, teens, and adolescents accessed through insurance, state funding, and self-pay.
Gateway's professional clinicians help thousands of individuals successfully complete treatment by developing a personalized plan that treats the underlying causes of substance abuse—not just addiction to drugs or alcohol.
Learn more about insurance coverage, treatment options, or Gateway's confidential consultation at RecoverGateway.org or call 877-505-HOPE (4673).
Reporters and Editors, for more information, please call Shannon Homolka, Marketing Manager, at 630-717-2256.