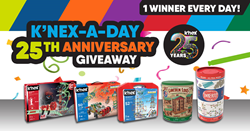 Hatfield, PA (PRWEB) September 07, 2017
K'NEX, the construction toy company where creativity clicks™ will is excited to announce the "K'NEX-A-Day 25th Anniversary Giveaway"! K'NEX officially turns 25 on October 2nd, 2017 and, to celebrate, they are giving away one prize a day, every day, for 25 days! One lucky entrant will even win a K'NEX prize pack valued at $3075.72!
When Joel Glickman invented the first and only color-coded building system in 1992, he didn't set out to design an educational construction toy, his goal was to show kids that the only limit to building was their imagination. His vision still stands today. K'NEX knows a child's journey to WOW begins with a single click and is pleased to have inspired STEAMagination inspired play for a quarter of a century.
Parents eager to ignite their builders STEAMagination can enter directly through the entry form available on the K'NEX Facebook page, http://www.facebook.com/knex, or by visiting this link http://woobox.com/opzvuf. Daily prizes are inspired by memories and K'NEX products of the past. The 25 random daily winners will be awarded prizes like a 6-Foot Ferris Wheel, Big Ball Machine, Son of Serpent Roller Coaster Building Set, KID K'NEX items and more! On the 26th day of the contest one lucky, random fan will be awarded every prize given out in the previous 25 days, a prixze pack which is valued at $3075.72! To see the full list of prizes to be awarded visit http://media.knex.com/contests/rules/Official-Rules-2017-KNEX-A-DAY-25th-Anniversary-GIVEAWAY.pdf.
The contest runs from 12 pm (ET) September 7, 2017 through Ocotber 2, 2017 at 11:59 p.m. (ET).
The contest is open to U.S. and Canadian fans (some exclusions may apply), who are ages 18 and over at the time of entry. For more information, click here for Official Contest Rules, or to enter visit http://woobox.com/opzvuf. No purchase necessary.
About K'NEX Limited Partnership Group
Founded in 1992, K'NEX, a wholly owned subsidiary of Smart Brands International Co., LLC, did not set out to become an educational toy company, all we wanted to do was show kids that the only limit to building was the size of their imagination! 25 years later, K'NEX prides itself on connecting Science, Technology, Engineering, Arts, and Math with imagination. STEAMagination™ can be found in every K'NEX set and with it building dreams become a fun-powered, 3-D reality! Winner of over 390 awards and recognitions, the K'NEX product line has building toys specially designed for every age group and skill level. The K'NEX family of brands includes IMAGINE Building Sets, Thrill Rides, K'NEX Education®, Kid K'NEX®, K-FORCE Build and Blast®, Mighty Makers®, Mario Kart™, Super Mario™, Plants vs. Zombies™, LINCOLN LOGS® and TINKERTOY® both under license from Hasbro, and more! From the living room to the board room, we are proud to help build the leaders of tomorrow! Join us at http://www.knex.com.
###