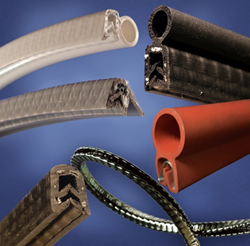 "Our products protect vital equipment from damage from the environment and improve efficiency with long-term high performance," said Nick Petri, President and CEO of DTi.
Southborough, MA (PRWEB) September 12, 2017
Southborough, MA Sept 12, 2017– Device Technologies, Inc. (DTi), a leader in the design and manufacture of enclosure related and environmental protection components, will be showcasing its full line of panel trims and seals as well as grommet edging solutions at the upcoming RSSI Trade Show (Booth #2116) to be held in Indianapolis, Indiana on September 17th - 20th . Products from DTi, a long-time U.S. manufacturer, are increasingly becoming a key sourcing solution for rail industry OEMs that must comply with FST and "Buy America" regulations.
Four of the world's leading light rail, metro rail, and high speed rail OEMs serving the U.S market are owned by international companies. Non-U.S. based companies face strict requirements to use components made in the U.S. as mandated by the American Reinvestment and Recovery Act (ARRA) and previous legislation. DTi is helping these organizations meet these demands by providing grommet edging, rubber trim and enclosure seal products that not only meet "Buy American" rules, but also comply with stringent fire, smoke, and toxicity (FST) requirements.
DTi's Trim-Fast™ edge trim, Seal-Fast™ enclosure seals, and Spring-Fast® grommet edging provide reliable methods to seal compartments against environmental conditions and protect wires and cables from chafing. These state-of-the-art components are designed using Collaborative Finite Element Analysis (CFEA) which uses technology that computes and models compression load deflection in application before manufacturing begins. This enables DTi to create the perfect edge treatment/profile for multiple needs of the rail industry.
"Our products protect vital equipment from damage from the environment and improve efficiency with long-term high performance," said Nick Petri, President and CEO of DTi. "These materials are 100 percent manufactured in the USA and provide an ideal solution for rail industry customers needing to comply to U.S. sourcing regulations."
Key features of DTi product solutions include fast, easy snap-on application that allow modification in place, multi-axis flexible fit, no prep work, and no adhesive solvents that can create safety issues.
"All three of our FST ready products are ideal for all rail applications," said Petri. "Spring-Fast is the modern way to protect wires and cables from chafing and replace the standard glued-in grommet, saving 49% on installed costs while providing a 9.5x productivity upgrade. While Seal-Fast and Trim-Fast profiles meet strenuous rail application requirements. We are committed to meeting the demands of the rail industry by providing high quality, U.S. manufactured seal, trim and grommet edging components."
For additional information, contact Karen Towler at ktowler(at)devicetech(dot)com.
About Device Technologies, Inc.
Founded in 1984, Device Technologies, Inc. (DTi) designs, manufactures, and sells specialty components including grommet edgings, enclosure seals, trims, and wire protection sleeving and EMI shielding/absorber/thermal materials for a broad spectrum of uses including energy wind turbines, telecom back up power systems, and IT Servers. DTi's advanced protection materials have wide applications in other industries such as Rail, HVAC, Medical, Military, Gaming, Automotive, Food Service and Aerospace Manufacturing.
DTi's Advanced Technology Division (ATD) specializes in fully automated, linear and selective polymer coating for cable, wire, flat wire, stampings and profile metal-formed products encapsulated in a broad range of thermo-plastic and thermo-setting resins.
DTi continues to invest in R & D to enhance opportunities for its product and process technologies, in compliance with ISO 9001 and AS 9100 standards. More information is available at http://www.devicetech.com or call (508-229-2000).
Spring Fast®, Fast-Drop™, Trim-Fast™, Seal-Fast™, Protect-Fast™ and Shield-Fast™ are registered trademarks of Device Technologies, Inc.
Customer Contact:
Customer Service
Device Technologies, Inc.
(800) 669-9682
+1-508-229-2000
customerservice(at)devicetech(dot)com
Technical Contact:
Steven O'Loughlin
Device Technologies, Inc.
+1-508-229-2000 Ext. 250
soloughlin(at)devicetech(dot)com