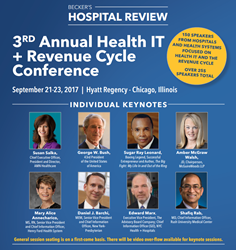 3,100+ Attendees
Chicago, Illinois (PRWEB) September 07, 2017
Upcoming Becker's Healthcare Conference to focus on Health IT, Revenue Cycle Management, Thought Leadership, Blockchains, Value-Based and Population Health. Specific sessions focused on Epic, Cyber Security, Telehealth, Mobile Health, Revenue Cycle Optimization, Predictive Analytics, Cerner, Denials, Patient clearance and more.
Keynote discussions led by:
George W. Bush, 43rd President of the United States of America
Sugar Ray Leonard, Boxing Legend, Successful Entrepreneur and Author of The Big Fight: My Life In and Out of the Ring
Daniel J. Barchi, MEM, Senior Vice President and Chief Information Officer, New York-Presbyterian
Edward Marx, Executive Vice President, The Advisory Board Company; Interim Chief Information Officer, NYC Health + Hospitals
Shafiq Rab, MD, Chief Information Officer, Rush University Medical Center
Susan Salka is CEO, President and Director of AMN Healthcare Services, Inc., (AMN)
Amber McGraw Walsh, JD, Chairperson, McGuireWoods LLP
Don't miss Steve McMichael, Dan Hampton & Otis Wilson from the '85 Chicago Bears who will be walking around and taking pictures in the Exhibit Hall, Thursday during the cocktail reception.
Thank you to our sponsors:
​Change Healthcare
Intermedix
Microsoft
Zotec Partners
3M
4medica, Inc.
Accenture
Access Healthcare
AccessOne
ACI Worldwide
ACN Healthcare
AHIMA
Americollect
Amitech Solutions
AnnexMed
Anthro Innovations
Apex
Avaap
Aviacode
Avizia
Ayasdi
BillingTree
Black Book
BlueTree Network
Bolder Healthcare Solutions
Canon U.S.A. | Triagetech
Cantata Health/ NTT Data
Capio Partners
CareCredit
Carelike
CBOSS
CCi
California Healthcare Medical Billing
Cimcor
Cirius Group
ClearBalance
ClinIntell
Colburn Hill Group
Collect Rx
CommVault
Conifer
ConversaHealth
CrossCHX
Datica
Doc Halo
Dolbey
eCatalyst Health Solutions
Echleon Medical Captial
eSentire
eSolutions
FormFast
Galen Healthcare Solutions
GBS Corp
GeBBs Healthcare Solutions
Global Recovery Alliance AG
Granite Telecommunications
Grant Thornton LLP
Harmony Healthcare
Harmony Healthcare IT
Healogics
Healthcare Resources Group
HealthFirst Financial
HELP Financial Corporation
Hiteks Solutions
HITRUST
Hospital IQ
Huntington Technology Finance
Imagine Software
Impact Advisors
Imprivata
Ingenious Med
Innovaccer
Innovative Healthcare Systems
InstaMed
Integrated Health Management Services
Intel
InTouch Health
Jacobus Consulting
Jive Software
Leidos
Lenovo
Lifepoint Informatics
Loyale Healthcare
Medasource
Medical Payment Exchange
MediGain Practice Management
MediMobile
MediRevv
Med-Metrix
MedPut
Mimecast
National Medical Billing Services
Netsmart
Newport Credentialing Solutions
NH-ISAC, Inc.
Noble Systems
Noble1 Solutions
Nokia
Nordic Consulting
nThrive
Nuance
Nyx Health
Office Depot
Oneview Healthcare
Ontario Systems
ORION STATE LICENSING, INC.
Outcome Health
Patientco
PatientMatters
Patientory
PatientPay
Perry Johnson & Associates
Philips
Philips Wellcentive
PhishLabs
PMMC
Privacy Analytics
Professional Credit
Professional Recovery Consultants and Horizon Health Fund
Progressive Management Systems
Pure Storage
QGenda
Qventus
R1 RCM
RCM Enterprise Solutions
RecruitIQ Staffing
Redox
Relatient
RevCycle Inc
RevSpring
RightPatient
S&P Consultants
Sage Data Security
SansoroHealth
Seal Shield
SecureAuth
Simplee
Simpler Consulting
Sipi Asset Recovery
SkillSurvey
SmartSource LLC
SnapMD
Softek Solutions, Inc.
Specialists on Call
Spok
SSI Group
Symantec
Symplr
Tanium
TechSolve
TigerText
TruBridge
United Collection Bureau, Inc.
Upfront Healthcare Services
US Signal / Vision96
Vee Technologies
VestaCare
VisiQuate
VMware
Voluware
Windstream
Wolters Kluwer
Workday
Zayo Group
Zebu Compliance Solutions
Zero Gravity
ZingBox