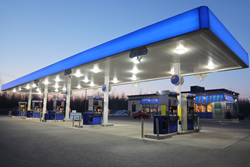 We've had experience with 3 other video systems, and we're most pleased with 3xLOGIC—the ease of managing the system and the clarity of the images, we'll never go with another camera system. Cliff Calloway, Co-Owner, BC Express Mart
WESTMINSTER, CO (PRWEB) September 06, 2017
3xLOGIC, Inc., a leading provider of integrated, intelligent security solutions today announced that the BC Express Mart, near Macon, Georgia, has deployed a 3xLOGIC video surveillance system to stay one step ahead of crime and to improve store operations.
The Lizella, Georgia 10,000 square-foot convenience store is owned by Belinda & Clifford Calloway and is just one of the businesses the two entrepreneurs own. The location is a convenience store, gas station, and restaurant, and employs 8-12 people depending on the season.
"The system was purchased about three years ago and was installed when this location was constructed," said Calloway. "We've had experience with three other video systems, and we're most pleased with 3xLOGIC—the ease of accessing and managing the system and the clarity of the images, we'll never go with another camera system."
Currently, the Calloways have 22 3xLOGIC cameras covering all cash registers, the drive-thru, various coolers, pump stations, areas within the restaurant and kitchen, and a 360-degree camera installed in the middle of the store watches out for shoplifters. 3xLOGIC video surveillance systems are popular with single store owners like the Calloways, as well as all the way up to mega-convenience store operations with thousands of locations. One major advantage with 3xLOGIC is the ability to scale from a handful of cameras to tens of thousands of cameras, all managed from a single, easy-to-use platform and GUI.
Calloway is planning to add at least six more cameras to cover remaining blind spots and to gain license plate visibility at the fuel pumps. Cameras are recorded to a 3xLOGIC NVR and managed with VIGIL Client software. Calloway and his wife also view camera feeds remotely on their smart phones, using 3xLOGIC's View Lite II, an Android and iOS app.
Cash register cameras are integrated with the store's POS system to enable close investigation of any questionable transactions. Calloway also takes advantage of the 3xLOGIC Cloud application to store and retrieve video footage without using server capacity. The store has suffered a few break-ins, and while no one has been apprehended yet, "The Sheriff told me we have the best cameras, with the crispest images."
"Compared to other systems, the 3xLOGIC system is very easy to use. We took 3xLOGIC's training, and we haven't seen that offered at other companies. I measure effectiveness by how many phone calls I get from my wife or other staff on how to operate the system—now, I get almost no calls."
Incidents? They've had a few: "We've seen fuel shortages and we could trace it back to a cashier approving more fuel than paid for; we've uncovered someone stealing lottery tickets; we've also proved a negative when we could show a customer that no one had broken into her car after she claimed a theft in our parking lot. We also had a break-in through the drive-thru window and the video picked up the incident before we even got a burglar alarm."
"Ease of use, image clarity, and the amount of data our system stores are excellent, and we get a lot of peace of mind being able to remotely view the entire store at any time. Our cameras show us evertyhing—customer count, what employees are doing, if someone is tampering with the pumps—we haven't had an incident where we re-wind and the video is not there. Overall, we're very pleased, we're so spoiled by 3xLOGIC, I wish I could put a camera everywhere."
About 3xLOGIC
3xLOGIC Inc. has been a leading innovator in server and cloud-based security technology for 15+ years. The company is recognized for providing easy-to-use surveillance and business intelligence solutions that seamlessly integrate video, access control, and disparate data such as ATM, Point-of-Sale, analytics, and more.
3xLOGIC's video surveillance solutions are engineered for ease of installation, scalability and affordability combined with a managed services portfolio that enables integrators to effectively evolve from dealers to high-value strategic partners. For more information about 3xLOGIC, please visit our website http://www.3xlogic.com.
For 3xLOGIC Media Queries:
Bruce J. Doneff
Public Relations
843.476.3022
doneff(at)verizon(dot)net
###