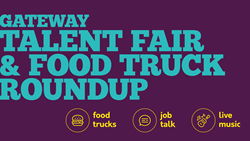 Columbia, MD (PRWEB) September 07, 2017
Columbia-based strategic communications and innovations firm ADG Creative will host the Gateway Talent Fair and Food Truck Roundup for the third year in a row. Located in the ADG parking lot on Sept. 13 from 3:00 p.m. to 6:00 p.m., the event will showcase 23 companies from the Intelligence Community and beyond.
The Talent Fair, which is free and open to the public, will also feature live music by Scott Paynter, as well as food options from local food trucks UpslideDown Dave, Pasta La Vista, Baby! and The Baltimore Waffle Company.
ADG encourages anyone seeking new employment opportunities in the Intelligence Community and beyond to attend the event, which will showcase a number of companies seeking both cleared and uncleared professionals.
A full list of companies attending can be found below:

ADG Creative
Clarity Business Solutions
CyberCore Technologies
Enlighten IT Consulting
Exceptional Software Strategies
Fourth Dimension Engineering
Freedom Consulting Group
Gable
Hayden Software
IntelliGenesis
Jacobs
Jovian Concepts, Inc.
KeyW Corporation
Leidos
Parsons
PCI Strategic Management, Inc.
Prime Solutions an Altamira Company
ProObject
Robert Half
SCD Information Technology
Stratus Solutions
Tower Federal Credit Union
Zachary Hebda Foundation
ADG Creative is located at 7151 Columbia Gateway Drive, Suite B Columbia, MD 21046 (next to Bay Bank). The rain date is September 14.
Facebook event page: https://www.facebook.com/events/1928177227465135
Event overview page: http://adgcreative.net/blog/2017/columbia-gateway-talent-fair-food-truck-roundup-returns-for-3rd-year/
###
About ADG Creative
ADG Creative is a leading digital strategy and innovations firm providing solutions for cultural and technology challenges within government and commercial sectors. The firm's capabilities center around workforce anthropology, design thinking, and software engineering, with noted accomplishments in the areas of advanced application engineering, data visualization, corporate strategy, design and branding, interactive and digital learning development, and simulation and video. ADG is headquartered in Columbia, MD, is privately-held, just celebrated its 25th year in business, and is home to nearly 85 talented "Creatives." The firm is a Smart CEO Future 50 Award winner, District and Regional ADDY winner, has ranked on the Inc. 5000 list numerous times, and has been recognized as a "Best Place to Work" by Baltimore Magazine. For further information, visit http://www.adgcreative.net.