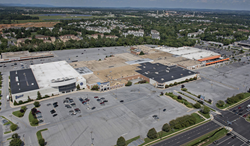 My experience with LYNK Capital was extremely positive, stated the buyer.
Frederick., MD (PRWEB) September 12, 2017
LYNK Capital, a private equity firm specializing in real estate lending, provided a Frederick, Maryland doctor with a $6.2 million loan for the purchase of the Frederick Towne Center in Frederick, Maryland. The buyer purchased the property at auction and LYNK Capital was able to close the loan in less than 3 weeks. The investment made in this property will aid in revitalizing West Frederick as the property is located on West Patrick Street, the area's primary retail thoroughfare. LYNK Capital provides real estate investors loans in communities within Maryland, Delaware, Pennsylvania, Virginia, the District of Columbia, Georgia, North and South Carolina as well as Florida.
"Considering the local bank was not able to provide the loan in the time period needed, it's exciting to be able to meet the needs of borrowers purchasing through the auction process. Helping real estate investors purchase properties at below market prices makes it rewarding for both LYNK Capital and the buyers." said Ben Lyons, Managing Director of LYNK Capital.
At the auction, the borrower bid $6,435,000 for the property and provided a significant non-refundable deposit to secure the purchase. After discovering that his local bank could not provide a permanent loan in the timeframe needed, the borrower sought a private lender to provide a solution. LYNK Capital was able to provide the borrower a short-term loan of the needed $6.2 million dollars in just 20 days. This loan enabled the borrower to complete the purchase of the property and bridge the time gap until institutional financing can be obtained.
"My experience with LYNK Capital was extremely positive," stated the buyer. "The members of the LYNK Capital team were very upfront and direct with the terms and conditions of the loan and everything they stated within the proposal was executed on. I'm grateful for the referral to LYNK Capital given my very short deadline to close this auction purchase. They came through with a $6.2 million loan in a couple of weeks which allowed me to buy property that is substantially below the market value."
To schedule interviews regarding this loan, contact Ben Lyons of LYNK Capital at 410.258.3903 or Ben(at)LYNKCapital(dot)com.
About LYNK Capital, LLC
LYNK Capital, LLC has been successfully operating since its conception in 2013, providing high yields to investors through real estate investment loans and first lien mortgages on residential and commercial real estate. LYNK Capital provides short-term loans, often referred to as bridge loan programs, for properties in targeted geographical areas that will benefit from the completion of property improvement or a transition plan.