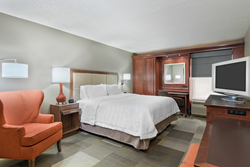 Buffalo, NY (PRWEB) September 08, 2017
Hampton Inn by Hilton Marlborough announces the completion of renovations to its property. Changes were made to the guestrooms, guestroom bathrooms, pool, meeting room and more seating was added to the lobby. The hotel now features elements of the new forever young initiative (fyi) designed to provide guests with accommodations that are multi-functional, modern, convenient and comfortable. FYI helps to extend the life of high-performing properties by upgrading indoor and outdoor design elements, applies innovative thinking to new prototypes and compliments current initiatives like the Perfect Mix Lobby. The scope of the multi-million dollar renovation includes new carpet, bedding, floor tile, curtains, paint, wall vinyl, artwork and new soft seating furniture.
"The renovation of our guest rooms is another way of telling our guests 'We love having you stay with us,' and is another milestone in our perennial efforts to ensure 100% guest satisfaction," said Melissa Martins, general manager. "We are confident our latest renovations exemplify the highest Hampton standards and what our guests expect from our brand."
The 142-room property, located at 277 Boston Post Road West, is minutes from many historic sites in New England and surrounded by many shops and businesses. In addition to the renovated areas, Hampton Inn by Hilton Marlborough offers such amenities as a 24-hour business center with complimentary printing, free Wi-Fi and free hot breakfast. Guestrooms are equipped with the brand's signature Clean and fresh Hampton bed®, mini fridge and coffeemaker. Whether you're in Marlborough for a sporting event, a business trip or just to relax you're assured the offers of warm surroundings, a friendly service culture and a staff that makes sure guests are 100 percent happy. Guaranteed™.
Buffalo Lodging Associates owns and operates hotels throughout the Eastern United States and Ontario, Canada. A fully integrated hotel development and management organization, Buffalo Lodging provides operations, marketing, accounting, architectural, construction and MIS services for its own account as well as providing third-party management for outside owners and investors. The company is equipped to develop, construct and manage properties, and is constantly seeking new opportunities throughout the country. For more information about Buffalo Lodging Associates' group of award-winning hotels, please visit http://www.buffalolodging.com.
To make reservations or for more information please visit http://www.hamptoninnmarlborough.com or call the hotel directly at (508) 787-9888.