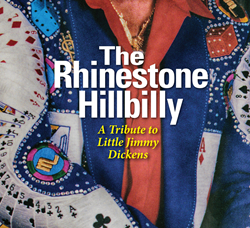 Washington, DC (PRWEB) September 06, 2017
The Rhinestone Hillbilly: A Tribute to Little Jimmy Dickins is a 16-song album complete with a 12-page booklet and features such notable West Virginians as Bill Withers (who recorded his first new work in over 32 years for the project), Kathy Mattea, Landau Eugene Murphy, Jr., and many others.
"Growing up in West Virginia in the '30s and '40s meant you were living what you heard from Little Jimmy Dickens," says three-time Grammy winner Bill Withers who chose Dickens' chestnut "(You've been Quite a Doll) Raggedy Ann" for his contribution to the album and his first new recording in over three decades. "'Sleeping at the foot of the bed' was a reality for a lot of us. Your sister had a 'Raggedy Ann' doll. And 'Bird of Paradise' was almost a quote from your favorite uncle, if his feelings got hurt!" Renowned singer and multi-instrumentalist Tim O'Brien remembers listening to Dickens' Grand Ole Opry performances on his parents' radio in the coal camp as a child.
Other music luminaries joining Withers and O'Brien on the album include a mix of country, Americana, classical, rock, and pop performers featuring Kathy Mattea, Charlie McCoy, Connie Smith, Landau Eugene Murphy, Jr., Mollie O'Brien, Julie Adams, John Lilly, James Price, Larry Groce, Ann Magnuson, and others.
The man they honor on The Rhinestone Hillbilly: A Tribute to Little Jimmy Dickens was a trailblazer in country music. Little Jimmy Dickens, from the Raleigh county community of Bolt, was asked to join the Grand Ole Opry in 1948, was nicknamed "Tater" by Hank Williams, Sr., and appeared on songs and in supporting videos with fellow West Virginian Brad Paisley. Along the way he experimented with rockabilly, was the first country artist to tour the globe in 1964, and was known worldwide for his novelty songs.
The Rhinestone Hillbilly: A Tribute to Little Jimmy Dickens mirrors the broad influence and respect that Little Jimmy Dickens' music commands until this day.
The Rhinestone Hillbilly: A Tribute to Little Jimmy Dickens is available for purchase now from Best Buy, Barnes & Noble, and online at the following retailers:
Amazon
https://www.amazon.com/Rhinestone-Hillbilly-Tribute-Little-Dickens/dp/B074R8LNT3/ref=sr_1_1?ie=UTF8&qid=1504727571&sr=8-1&keywords=rhinestone+hillbilly
iTunes
https://itunes.apple.com/us/album/the-rhinestone-hillbilly-a-tribute-to-little-jimmy-dickens/id1270941955
Bandcamp
https://rhinestonehillbilly.bandcamp.com/album/the-rhinestone-hillbilly