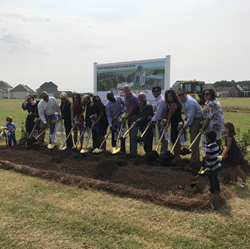 Our passion for childcare began more than ten years ago. My husband, Derrick, and I have owned and operated six childcare facilities in Southern Louisiana and we are ecstatic about expanding in the Zachary area – Tessa Holloway
(PRWEB) September 11, 2017
Americana, an award-winning new home community in Zachary, Louisiana, held a ground-breaking celebration on September 6, 2017 for a new commercial development that will enrich the lives of homeowners in Americana and serve residents of the surrounding area.
Construction of Kidz Karousel Early Childhood Development Center will begin today. The new business being constructed in Americana will add important new services for parents and their children, making Americana an ideal home for families.
Kidz Karousel, a 12,000-square-foot facility, will provide child care services and educational programs for 189 children; ranging in age from six weeks through 5 years old fulltime, and 6 to 12 years for before and aftercare, holiday care and summer camp. The new facility will offer childcare from 6 a.m. to 6 p.m. all year round. Located conveniently off Mt. Pleasant Road and Americana Boulevard, Kidz Karousel will offer an easy drop-off and pick-up access point for parents in Americana, as well as parents from the surrounding area.
The new business in Americana is part of the developer's vision to provide homeowners and the town of Zachary a safe community and unique amenities that create a distinctive lifestyle for residents.
"We're pleased to add another important partner to the Americana Development portfolio with Kidz Karousel," said Americana owner/developer John Engquist. "This exciting new business continues our commitment to provide quality amenities and services like no other to our homeowners and to the town of Zachary."
Tessa and Derrick Holloway, owners of Kidz Karousel Child Development Centers, have more than 10 years of experience in childcare and development.
The Holloways and their management team – which consists of Soni Caballero, executive director for all Kidz Karousel locations, and Zachary resident, Deirdre Bergeron, who will be the director of the new facility in Americana – are proud to serve local families and children.
"Our passion for the childcare industry began more than 10 years ago when my husband, Derrick, and I purchased our first facility," co-owner Tessa Holloway said.
"I entered this industry as a business opportunity and soon realized that it was actually my calling," Holloway added. "We've owned and operated six facilities located throughout southern Louisiana in areas such as Lake Charles, West Baton Rouge, Baton Rouge and Mandeville."
"My husband Derrick and I are ecstatic about expanding our business and reaching out in the Zachary area, nestled in the quant and sophisticated Americana Development," Holloway said.
The Kidz Karousel team includes licensed trainers for the State of Louisiana in childcare, as well as certified trainers in CPR and first aid. The team also includes Teaching Strategies Gold-certified class reliable observers, the highest-rated curriculum in Louisiana. Staff members of Kidz Karousel have also served on the workforce and education committee of the Louisiana Association of Business and Industry (LABI) and are current members of the Head Start Advisory Committee.
"Americana continues to provide homes that offer beautiful architecture, quality construction, energy savings and many options that enable owners to personalize their home," Engquist said.
"Americana's Community Center, The Pointe, provides events and concerts for our homeowners to enjoy. The addition of Kidz Karousel offers high-quality child care, before/after care and holiday care. Best of all? Each of these amenities are within walking distance from your home," Engquist said.
The largest traditional neighborhood development in the Baton Rouge area, Americana offers many amenities that include a Town Square, Waterfront Park, restaurants and retail stores – as well as green space, a dog park and The Pointe event facility.
Taking part in the groundbreaking were Tessa and Derrick Holloway; John Enquist, owner and developer of Americana; Charles Landry with Americana; Ryan Engquist, president of Level Homes; Mayor David Amrhein; Councilperson Laura Obrien; Taylor Watts, executive director of the Zachary Chamber of Commerce; Ryan Greene, Realtor; Trula Remson, architect; Wayne Collins, contractor; Deirdra Bergeron, director of Kidz Karousel Americana; and Soni Caballero, area manager, Kidz Karousel.
For more information on Americana, please visit http://www.americanazachary.com/.