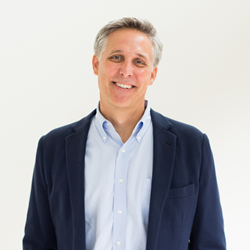 What a thrill to return to VMDO—a company with a meaningful and authentic commitment to high-performing learning environments and a body of work that demonstrates that commitment.
Charlottesville, VA (PRWEB) September 07, 2017
VMDO Architects, an architectural firm specializing in design for educational clients and municipalities, welcomes Rob Winstead, AIA, LEED AP BD+C as he rejoins the firm as a principal and K12 studio leader.
A nationally-recognized expert in learning space design and sustainability, Rob is an advocate for exceptional learning spaces that blend thoughtful planning and design with high performance goals to deliver added value for clients and users. He is a frequent speaker at regional and national conferences and is the former chair of the Large-Firm Roundtable Sustainability Committee. In his previous tenure with VMDO (1998-2008), Rob served as VMDO's first Director of Sustainability and contributed to the firm's first AIA Committee on the Environment award for the design of Manassas Park Elementary School.
"Rob brings with him an innate understanding of VMDO's culture and mission, bolstered by educational design experience with a multi-national firm," shares VMDO Founding Partner Bob Moje, FAIA, LEED AP. "From my time working with him on projects such as Manassas Park Elementary School, I know he will do a tremendous job overseeing the growth and management of the K12 studio. I have the utmost confidence that he will build on VMDO's legacy of leadership and innovation to help ensure our firm's success for the next 40 years."
As principal and K12 studio leader, Rob will provide firm-wide leadership and studio management that align with VMDO's structure as one firm with multiple studios. As a mentor and manager, Rob is committed to a collaborative, integrated, and inclusive process that complements VMDO's relationship-based approach to developing customized solutions for clients and communities. And as an active member of the design community, Rob will continue to serve in key leadership roles with organizations such as the Association for Learning Environments, the AIA's Committee on Architecture for the Environment, and AIA Central Virginia—where he currently serves as incoming president.
Rob's broad portfolio of regional, national, and international work over 25 years of practice supports VMDO's commitment to serving clients as a regional firm with national expertise. He is well known in the Mid-Atlantic for innovative and award-winning projects and for experience with zero-energy schools. His work has been recognized with numerous awards for planning, design, architecture, urbanism, and sustainability.
To find out more about VMDO, visit vmdo.com.