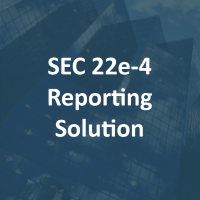 By combining Advise's proven reporting solution and Bloomberg's use of machine learning to estimate liquidity risk, we are ready to help firms meet their obligations.
New York, NY (PRWEB) September 07, 2017
Advise Technologies and Bloomberg today announced a joint regulatory reporting solution for mutual funds needing to comply with the liquidity risk reporting requirements stipulated by SEC 22e-4.
For many open-ended funds, extracting portfolio-level liquidity data and identifying the necessary information needed for SEC reporting can present an array of operational challenges. The Form N-PORT module in Advise Technologies' Consensus RMS platform is designed to simplify this reporting.
"With rigorous reporting requirements and a 2018 deadline, firms are trying to find ways to automate Form N-PORT and N-CEN reporting," said Ethan Wishnick, Managing Director for SEC Reporting Modernization at Advise Technologies. "By combining Advise's proven reporting solution and Bloomberg's use of machine learning to estimate liquidity risk, we are ready to help firms meet their obligations."
SEC 22e-4, adopted as part of the new SEC modernization rules, requires affected firms to report liquidity risk metrics on Form N-PORT. Under the rule, open-end funds, including mutual and exchange-traded funds, are required to classify assets into liquidity buckets or "tiers," based on how quickly they could be converted to cash. The SEC estimates the rule will cost firms about $1.4 billion in one-time costs and $240 million annually after that as financial firms implement liquidity-risk management programs to mitigate redemption risk.
Through the partnership, both Bloomberg and Advise customers will now be able to leverage Bloomberg's LQA tool, which provides liquidity risk analytics about portfolio investments, and automates custom monthly reporting for the SEC.
"By integrating LQA's data with Advise Technologies' solution, Bloomberg is able to provide a complete reporting workflow solution that allows funds to more efficiently manage and comply with SEC 22e-4's regulatory obligations," said Naz Quadri, Head of Liquidity and Enterprise Quant Group at Bloomberg.
Initial support for Form N-PORT and Form N-CEN was added to Consensus RMS earlier this year. Consensus RMS is used by over 1100 managers to file reports such as 13F, Form PF, Form ADV, CPO-PQR, and numerous others. It includes data validations, flexible data loading, team collaboration functionality, a full audit trail, and e-filing to the SEC. Consensus RMS is supported by the Advise Best Practices team, which provides industry interpretations to clients.
Bloomberg LQA provides coverage for government, agency, corporate and municipal bond securities as well as global equities and ETFs. Bloomberg reference data and evaluated pricing (BVAL) customers can now access the Global Liquidity Score produced by LQA for securities that are part of the customer's regular data requests at no additional cost.
Bloomberg LQA is part of a suite of regulatory and accounting data sets that help compliance professionals at banks, asset managers, insurers and other financial organizations navigate an increasingly complex and data-intensive requirements. To learn more please visit: http://www.bloomberg.com/professional/product/regulatory-accounting-data/
About Advise
Advise Technologies, a CSS company, is a premier provider of reporting and compliance software for investment managers. With five products – Advise TTR, Consensus, Notes, Signal, and Vault – it provides innovative solutions to the regulatory and operational challenges faced by clients. Advise was founded in 2010 and is headquartered in New York with offices in major European financial centers. For more information: http://www.AdviseTechnologies.com
About Bloomberg
Bloomberg, the global business and financial information and news leader, gives influential decision makers a critical edge by connecting them to a dynamic network of information, people and ideas. The company's strength – delivering data, news and analytics through innovative technology, quickly and accurately – is at the core of the Bloomberg Terminal. Bloomberg's enterprise solutions build on the company's core strength: leveraging technology to allow customers to access, integrate, distribute and manage data and information across organizations more efficiently and effectively.
BLOOMBERG, BLOOMBERG PROFESSIONAL, BLOOMBERG TERMINAL and BLOOMBERG APP PORTAL are trademarks and service marks of Bloomberg Finance L.P., a Delaware limited partnership, or its subsidiaries. All rights reserved.