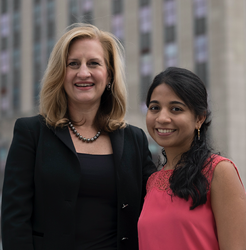 I am confident that as CEO, Catherine's leadership and management will help us achieve new heights of success.
New York City (PRWEB) September 08, 2017
Pefin, the world's first Artificial Intelligence (AI) financial advisor, welcomed Catherine Flax as Chief Executive Officer today.
Flax has had a multi-decade, distinguished career on Wall Street, as the Managing Director and Head of Commodity Derivatives, Americas at BNP Paribas and as Chief Marketing Officer of J.P. Morgan. She was named the Most Influential Woman in European Investment Banking in 2012 and one of the 100 most influential women in European Financial Markets in 2010 and 2011. Flax has been a leader in the FinTech space, as a Board Member of leading blockchain company, Digital Asset Holdings, and for the last two years, as an Advisor to Pefin in matters of Marketing, Regulation, Business Development and International Growth.
Pefin's Founder Ramya Joseph, is a former Wall Street executive who founded Pefin in 2011 with the goal of making intelligent, affordable and fiduciary financial advice available to the masses. Joseph is delighted to have Flax on board. "We are excited to have Catherine join us as CEO, and work with her to achieve Pefin's vision of providing fiduciary, AI financial advice for everyone. Over last few years, she has provided amazing insights about our overall business strategy. I am confident that as CEO, Catherine's leadership and management will help us achieve new heights of success."
Flax echoes her sentiment. "I have been fortunate to be a part of Pefin for the last two years in my role as advisor, and to witness the tremendous growth of the platform. Pefin has the potential to transform lives, and Ramya is a visionary for bringing intelligent, personal financial advice to every single person in a scalable, affordable way. I look forward to working with her and the rest of the Pefin team to bring this transformation in financial advisory services to the United States, and to the rest of the world."
Joseph will continue to lead the charge on developing Pefin's AI platform, while Flax will spearhead the company's growth and expansion in the future.
Pefin's proprietary, AI technology analyzes all of the data that describes an individual's financial life, and incorporates markets, tax and regulatory details, to craft personalized, affordable financial advice, available 24/7. The platform has had more than 4000 users in beta and its full release will be available in Fall 2017.
###
About Pefin
Established in 2011, Pefin, is a financial technology company based in New York City. Pefin, which stands for PErsonal Financial INtelligence, uses Artificial Intelligence (AI) to provide fiduciary financial advice at the fraction of a cost of a traditional financial advisor. Pefin's proprietary, patent-pending AI technology factors individual financial situations and personal financial priorities in addition to markets and regulations to craft highly tailored financial advice, available 24/7. Pefin Advisors, LLC is an SEC Registered Investment Advisor, under Section 203(c) of the Investment Adviser Act of 1940. For more information, visit http://www.pefin.com