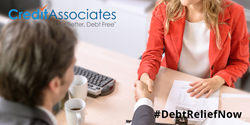 Over 175,000 debts settled, translating to an excess of $835 million in resolved debts for its clients.
Dallas, TX (PRWEB) September 19, 2017
Trusted debt-reduction firm CreditAssociates, LLC has announced two important milestones. To date, the agency has settled over 175,000 debt accounts, translating to in excess of $835 million in resolved debt for its clients.
Credit card debt, unpaid hospital bills, department store card debt and other unsecured loans are some of the categories of debt settled by the company. With more than a decade of combined service to the American people, CreditAssociates has touched countless lives by helping individuals recover from indebtedness that might have otherwise pushed them into bankruptcy.
"We're very proud of the milestones that we've accomplished so far," says Chase Nichols, Director of Marketing at CreditAssociates. "This is a testament to the hard work of the CreditAssociates team and the determination of our clients to live debt-free lives."
The CreditAssociates team has been in the debt settlement industry for a very long time. By leveraging its experience, knowledge and relationships with creditors all over the United States, it's able to reduce debt by as much as 60%.
Unlike other debt settlement agencies that claim to reduce debt, CreditAssociates offers assurances to its clients and puts them in writing. For example, the firm guarantees not to charge its clients a single dollar until each debt is successfully resolved. The firm also guarantees that the fees it charges will be a fraction of what the client saves from debt payments.
CreditAssociates specializes in resolving debt brought about by job loss, income loss, divorce or sickness in the family. By providing clients with expert advice, realistic recommendations and negotiation assistance, the firm is able to relieve the pressure of debt for the average American when it's needed the most.
About CreditAssociates, LLC
CreditAssociates, LLC is a Dallas, Texas-based debt settlement agency that has helped thousands of people in the United States get on the path of freedom from debt. With its wealth of experience and strong relationships with credit institutions, the firm has unparalleled power to negotiate debt payments on behalf of its clients and lower the total amount that they're required to pay. Throughout its history, the CreditAssociates team has helped resolve thousands of debt accounts, translating into hundreds of millions of dollars in settled balances.