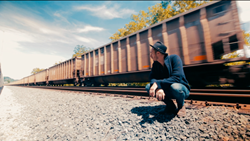 This is one of those songs that chose me, and had a purpose when it showed up; so I listened.
Santa Monica, CA (PRWEB) September 25, 2017
Universal Films premieres its highly anticipated "Call On Me" music video on Thursday, September 28, 2017 to deliver a powerful message of teamwork, unity and collaboration to its worldwide audience of the successful Bring It On film Franchise.
Feature film writer/director Robert Adetuyi (Beat the World, Stomp the Yard) and Grammy-nominated composer and multi-platinum soundtrack producer Frank Fitzpatrick leverage pop film with a global audience to promote the powerful message of teamwork, unity and creative collaboration.
"It's a song about "always having somebody's back - having people who are there for you - your 'angels'," said Fitzpatrick. "We really wanted to represent and emphasize the importance of passionate creative communities in bringing people together and supporting one another."
The film's producers at Universal liked Fitzpatrick's vision, using the release of the Bring It On music videos to promote the work of his non-profit EarthTones, which supports critically needed music, visual arts, dance and fitness programs for at-risk youth.
The "Call On Me" video is directed by Chris Dela Cruz, and features Pittsburg-born artist MJ Ultra, who Fitzpatrick discovered performing at a club in Hollywood. "MJ's voice, talent and sincerity really resonated with me. When I started writing "Call On Me" - the love theme for the film - I felt in my gut he was meant to be part of it. This was one of those songs that chose me, and had a purpose when it showed up; so I listened".
Fitzpatrick has penned the themes and title songs for many Hollywood hits and top-selling brands, from The Larry Sanders Show to the Vatican, to the Grammy-nominated "Soul Music" and Disney's record-breaking High School Musical Tour. With an award-winning body of work spanning more than twenty-five years and a commitment to advocacy and social entrepreneurship, Frank Fitzpatrick has proven himself to be a creative visionary and tireless force for transforming the human spirit through music and film.
The single "Call On Me" marks Fitzpatrick's third collaboration this year with Chris Dela Cruz, which includes a music video for his lead single "Invincible" and his upcoming documentary short WHY Music In Schools. It also marks his fourth feature film collaboration with writer/director Rob Adetuyi.
In addition to MJ's performance, the video juxtaposes footage of the film's leads - Destiny, the top ranking cheerleader & choreographer and Blake, graffiti artist & Hip Hop dancer, with shots of MJ paying tribute to prominent street muralists in his hometown of South Pittsburg.
Fitzpatrick is no stranger to leveraging the power of music, dance, and film to bring a positive message to youth across the globe, and he hopes that his contributions to the Bring It On Soundtrack and the "Call On Me" video will do just that.