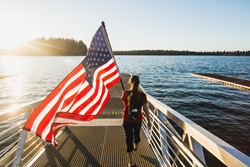 Seattle, WA (PRWEB) September 11, 2017
The fourth iteration of Team Red, White & Blue's (Team RWB) Old Glory Relay started at sunrise this morning at CenturyLink Stadium with Microsoft as the presenting sponsor. Today marks the start of a cross-country journey that will feature hundreds of veterans participating from all branches and eras of service. In total, over 70 teams which include veterans and their supporters will carry a single American flag over 4,600 miles in 62 days from Seattle, Washington to Tampa, Florida. From September 11th through Veterans Day (Nov. 11), the teams will be running, walking, and cycling with an American flag across each leg of the relay in their mission to bring the flag home to Team RWB's National Headquarters in Florida.
"We are beyond excited to start the Old Glory Relay, which is an important national event for the Team Red, White & Blue community," said J.J. Pinter, Executive Director, Team RWB. "It's the fourth time we're crossing the country, and it just gets better every time thanks to the amazing group of veterans, supporters, sponsors and communities engaged along the course. This journey aims to send a message that our country is stronger and better when we're unified, connected and helping Veterans transition for success."
Relay participants will be joined by presenting sponsor Microsoft, in addition to key sponsors including Westfield, TrueCar, Starbucks, Comcast NBCUniversal, Schultz Family Foundation, and Amazon.
"Microsoft is committed to empowering the veteran community both here at Microsoft and elsewhere," said Chris Cortez, retired Marine Corps Major General and now vice president of Military Affairs at Microsoft. "The Old Glory Relay is a great example of how organizations like Team Red, White & Blue bring our veterans together, and build community from coast to coast and abroad. We are tremendously proud to be the presenting sponsor in this effort."
The Old Glory Relay is a one-of-a-kind experience filled with unity, patriotism and pride as teams safely complete their assigned daily relay legs between the times of sunrise and sunset. Following the kickoff in Seattle, Old Glory will move south along the West Coast through the Cascade Range before crossing the Golden Gate Bridge and through San Francisco. Continuing south, Old Glory will connect Team RWB Eagles and supporters in Los Angeles and San Diego before heading eastward through the desert landscapes of Arizona and New Mexico and crossing San Antonio and Houston. For the final stretch, the relay will cross the Florida Panhandle before finishing in Tampa, home of Team Red, White & Blue's National Firebase, with a fitting Retreat Celebration at the Westfield Brandon mall. To access the full list of cities, please visit https://oldgloryrelay.org/2017-course-legs/.
View the 2017 Old Glory Relay Trailer.
About Team Red, White & Blue
Team Red, White & Blue (Team RWB) is a 501(c)(3) nonprofit organization founded in 2010 with the mission of enriching the lives of America's veterans by connecting them to their communities through physical and social activity. Team RWB has over 127,000 members spread across 220 chapters and communities located throughout the world. To learn more about Team RWB and how you can help, visit https://www.teamrwb.org.
About Old Glory Relay
The Old Glory Relay spans 62 days and over 4,600 miles from Seattle, Washington to Tampa, Florida. The Old Glory Relay is one of Team Red, White & Blue's cornerstone efforts to help spread their mission, recruit new members and generate donations for their veteran enriching programs. Help support the Old Glory Relay by visiting https://donate.teamrwb.org/OldGloryRelay.