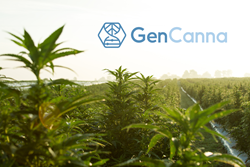 "Bringing the hemp world to our headquarters and home here in Kentucky..."
Winchester, KY (PRWEB) September 08, 2017
GenCanna Global, Inc., which delivers wellness and quality of life through nutrition, is proud to support The Hemp Industries Association (HIA) 24th annual conference, as a Title Sponsor. GenCanna™ is an agricultural leader in the production of Industrial Hemp and Hemp-derived nutrition products that are distributed around the globe. The conference will take place Saturday, September 9, 2017, through Monday, September 11, 2017, in Lexington, Kentucky, and will focus on the theme Share the Vision. Due in part to the support of GenCanna™, the 24th annual HIA conference is expected to be the most highly attended conference in the history of the HIA. For more information, and to register for Share the Vision, please visit: http://www.thehia.org/event-2535421.
"GenCanna™ is proud to be a Title Sponsor for this year's HIA Convention," said company President Steve Bevan. "Bringing the hemp world to our headquarters and home here in Kentucky allows GenCanna™ to showcase our people, our operations, and our products. We are excited to be working with our Kentucky partners for a fourth successful growing season, and pleased to greet all hemp visitors from the US and around the world. GenCanna™ is also excited to showcase its industry leading GenCanna Production Platform™ which has been perfected in Kentucky. Today, we are hiring even more Kentuckians to fill expanded production demands from our customers: Contact us at: https://gencanna.com/careers.
Programming and seminars at the conference will cover a broad range of issues, including hemp food science, agronomy and fiber science; industry economics and plant genetics; federal and state policy; cutting-edge cannabinoid research, hemp product manufacturing and feature scientific poster presentations. The conference also offers an excellent opportunity for networking and business development.
VISIT BOOTH 48 - SEPTEMBER 10-11th: For those attending the show, GenCanna™ invites registrants to visit Booth 48 to learn more about its top selling, industrial hemp-derived product line.
SPONSORED HEMP PRESENTATION - SEPTEMBER 10th: Join Steve Bevan, President of GenCanna™, and Chris Stubbs, the company's Chief Science Officer, for an informative Hemp Talk, "GenCanna Global™: Kentucky's first vertically integrated industrial hemp company," on Sunday, September 10th at 11:30am in the Bluegrass Room at the Lexington Convention Center.
ABOUT GENCANNA GLOBAL, INC.
GenCanna Global, Inc. delivers wellness and quality of life through nutrition. By leading research at its Hemp Research Campus in Winchester, Kentucky, GenCanna™ works closely with local farming partners and state universities to develop and deploy novel propagation and cultivation techniques (learn more at https://gencanna.com/agriculture/). GenCanna™ sustainably grows premium hemp cultivars on fertile Kentucky family farms, and crop processes the harvest for sustainable feedstock. Our non-toxic CO2 extraction methods and innovative processing in our food production facilities in Winchester, KY exceeds all regulatory standards (learn more at https://gencanna.com/compliance/). The GenCanna Production Platform™ assures standardized, repeatable quality throughout the wholesale and retail supply chains, from greenhouse to farm to finished product.
More information about GenCanna Global, Inc. may be found at http://www.GenCanna.com.