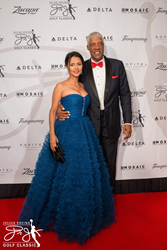 Tanqueray is committed to celebrating culture and diversity in golf and honored to raise a glass to all the featured athletes playing in the 2017 Julius Erving Golf Classic
Philadelphia, PA (PRWEB) September 07, 2017
The Julius Erving Golf Classic, a spectacular experience honoring Julius "Dr. J" Erving kicks off this weekend, welcoming celebrities, sports legends and VIP guests to Philadelphia for a fun weekend of basketball, lifestyle and golf in support of the Salvation Army of Philadelphia.
Co-hosted by ESPN's Jay Harris and Professional Golfer and Fashion Designer Seema Sadekar, the exclusive Julius Erving Black Tie Ball & Red Carpet will take place on Sunday, September 10th, featuring a performance by critically acclaimed R&B singer and songwriter, Ginuwine at the beautiful Logan Hotel in Philadelphia, PA. Throughout the evening, guests will enjoy signature Tanqueray No. TEN cocktails inspired by the Icon and Legend, Julius Erving. Full cocktail recipes are included below. Tanqueray is committed to celebrating culture and diversity in golf and honored to raise a glass to all the featured athletes playing in the 2017 Julius Erving Golf Classic
Mr. Erving
1.25 oz. Tanqueray No. TEN
Fever Tree Mediterranean Tonic
Grapefruit
Sprig of Thyme
Preparation: Build 1.25 oz Tanqueray No. TEN and Fever-Tree Mediterranean Tonic (to fill) over ice in a glass. Express grapefruit twist over glass. Stir and garnish with half a slice of grapefruit and a sprig of thyme. Glassware: Copa Glass
Dr. J & Juice
1.25 oz. Tanqueray No. TEN
3 oz. Fresh Orange Juice
1 oz. Cranberry Juice
Preparation: Add fresh orange juice, cranberry juice and Tanqueray No. TEN over ice and stir. Garnish with an orange triangle.
Glassware: Highball
On the final day, September 11, golfers will head to the ACE Club to tee-it-up in the Official Julius Erving Golf Classic presented by Delta Air Lines. R&B artist Jeffrey Osborne will perform "God Bless America" during the official Erving Opening Ceremony presented by Pond LeHocky Law Firm. At each hole, golfers will be greeted by the "Erving On-Course Museum," presented by The Philadelphia 76ers, featuring images and information that highlight key moments from illustrious life and career of Erving. During the exclusive tournament, select ladies are invited to attend "Cocktails with Dorys" presented by CIROC in the Tanqueray No. TEN Clubhouse Lounge with Dorys Erving, wife of Julius Erving. The ladies will then join in for the Erving Playoffs, Awards and Closing Ceremonies presented by Delta Air Lines after the tournament round.
2017 Erving Celebrity Guests include: Former NBA super stars Alonzo Mourning, John Starks, Cliff Levingston, Gerald Henderson, Sr., Eddie Jordan, Reggie Theus and Richard Hamilton; Current NBA players, Jahlil Okafor, Markelle Fultz, Rondae Hollis-Jefferson; R&B icons Eddie Levert, Jeffrey Osborne and Tony Cornelius; Former NFL players, Marcus Allen, Richard Dent, Keith Byars, Victor Green and Joe Washington; former MLB stars Reggie Jackson and Joe Carter; PGA Tour Professional Sean O'Hair and many more.
Notable Erving Classic sponsors include: The Philadelphia 76ers, Delta Air Lines, Zacapa Rum, Tanqeray Gin, CIROC, Pond Lehocky Law Firm, Michael Kors, Roots of Fight, Wawa, Buzz Oates, 251 Dekalb, King Transportation, Nestle Waters and many more.
ABOUT THE JULIUS ERVING GOLF CLASSIC
The three day experience celebrates the achievements and legacy of Julius "Dr.J" Erving in the city of Philadelphia, where Erving spent most of his illustrious career in the NBA. A portion of the proceeds will benefit the Salvation Army, a non-profit organization dedicated to bringing comfort, food, shelter and care to the needy around the world. The event brings together golf, fashion, lifestyle and entertainment. VIP Packages for the Julius Erving Golf Classic can be tailored to include golf and hospitality. For information on Erving tickets, packages and experiences call PGD Global at 310.926.4075 or email info(at)playgolfdesigns(dot)com. For media inquiries: Rachel Rees: Rachel(at)pgdglobal(dot)com.
ABOUT PGD GLOBAL
Play Golf Designs, Inc. (PGD Global) is a golf marketing & event company, directing and participating in luxury events for some of the world's most legendary athletes, brands, entertainers and organizations including Coach Mike Woodson, Julius Erving, Jalen Rose, Chris Tucker, Jeffrey Osborne, Viacom, The Broadcasters Foundation of America, Diageo and MGM Resorts International. PGD blends pop culture and entertainment, creating the most unique, innovative golf events and experiences for each client. PGD Global focuses on celebrating diversity and inclusion in golf while welcoming women to the game with open arms. Specializing in connecting golf to the modern world of trends and fashion, PGD Global operates golf and lifestyle events and experiences all around the country, welcoming new golfers and businesses to the game. More info: http://pgdglobal.com.
ABOUT POND LEHOCKY STERN GIORDANO
PENNSYVLANIA WORKERS' COMP LAWYERS - Founded by partners Samuel Pond, Jerry Lehocky, David Stern, and Thomas Giordano Jr., the law firm of Pond Lehocky Stern Giordano opened its doors in July 2010 with six attorneys and only 22 total staff members. Today, as the largest workers' compensation and Social Security disability law firm in the region, Pond Lehocky boasts 12 office locations and over 200 staff members. For more information, visit their website at https://www.pondlehocky.com.
ABOUT THE ACE CLUB
The ACE Club in Lafayette Hill, Pennsylvania is the most exclusive corporate club in Greater Philadelphia. The 35,000 square foot clubhouse is the centerpiece of the 300+ acres of pristinely manicured grounds. The comprehensive clubhouse has multiple meeting rooms for corporate meetings and small corporate events, and the entire structure is outfitted with the latest state-of-the-art technology and wireless capabilities. The ACE Club is also home to one of the top-ranked golf courses in Philadelphia, it was noted in January 2015 on Golf Digest's Best in State, and are ranked in the top 20 private courses for Pennsylvania. The 7,500 yard Gary Player Signature Design course is equipped with five tee placements catering to golfers of all abilities. With one of the top caddie programs in Philadelphia to help you navigate the golf course, The ACE Club is a true golf experience. For more information, visit their website at http://www.theaceclubonline.com
ABOUT LOGAN PHILADELPHIA
The Logan Hotel, a Curio by Hilton Hotel, The Logan is a social magnet, infused with a confident, contemporary, and artistic point of view. A special enclave for business and leisure travelers alike, nowhere else gets you as close to all the action in Philadelphia, or if you choose, providing all you need so you never need leave the hotel. As one of the most modern luxury hotels in Philadelphia, PA, The Logan continues that tradition by bringing its own unique viewpoint to the Philadelphia arts district. Local artwork fills the lobby and rooms, and our Logan Square hotel is conveniently located near several museums. The hotel, near Rittenhouse Square, is just steps from one of the most upscale shopping districts in the area. A vibrant hub, here lies Philadelphia's true heart and soul of the city, teeming with extraordinary people and unique experiences. For more information, visit their website at http://www.theloganhotel.com/
ABOUT TANQUERAY
TANQUERAY London Dry Gin is a dry, crisp, gin with a rich juniper flavor. Known for its iconic green bottle and red emblem, TANQUERAY London Dry Gin is the number one imported gin in the United States and is one of the world's most award-winning gins. TANQUERAY gin, TANQUERAY No. TEN gin, TANQUERAY RANGPUR gin and TANQUERAY STERLING vodka together create the renowned portfolio of TANQUERAY. Additional information about the TANQUERAY brand may be found at http://www.tanqueray.com. Enjoy the finest spirit responsibly. TANQUERAY Gin. 100% Grain Neutral Spirits. 47.3% Alc/Vol. Imported by Charles Tanqueray & Co., Norwalk, CT.
@ErvingClassic. http://www.juliuservinggolfclassic.com