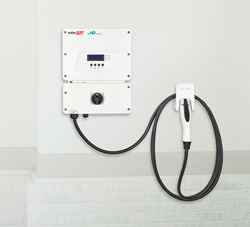 FREMONT, CA (PRWEB) September 07, 2017
SolarEdge Technologies, Inc. ("SolarEdge") (NASDAQ: SEDG), a global leader in PV inverters, power optimizers, and module-level monitoring services, will showcase its continuous innovations in solar energy, smart energy management, and software at Solar Power International. Further enlarging the company's residential and commercial solutions portfolio, SolarEdge will present its new high-power residential inverter with HD-Wave technology, the world's first inverter-integrated EV-charger, a web based site designer application, and an extended range of commercial inverters.
"Our focus on profitable business practices has empowered SolarEdge to strengthen its product roadmap investments. We continue to outpace the competition with novel, value-added solutions that can expand PV penetration and improve our installer's profitability," stated Peter Mathews, SolarEdge's North America General Manager. "This year at SPI, SolarEdge continues its track record of innovation with creative solutions for the commercial and residential markets, and now, with its recently launched electric vehicle charging applications."
Following the complete transition of its residential solution to HD-Wave inverters, SolarEdge is now offering higher power options for the single-phase HD-Wave inverter of up to 11.4kW, in order to support larger installations. As part of its residential offering, SolarEdge will also show its inverter-integrated EV Charger with HD-Wave technology, which reduces installation costs, provides increased charging power with solar boost mode, and is integrated in the SolarEdge monitoring platform. The new inverter can be purchased as an EV-ready HD-Wave in either 3800 or 7600 watt power ratings. The upgrade to enable EV charging is rapidly completed using an accessory pack and requires minimal installation work.
SolarEdge is transforming its site designer application to a web-based tool to simplify identification of the optimal SolarEdge products that should be deployed for different types of installations.
SolarEdge is showcasing its extended commercial offering with its larger-capacity, three-phase inverters that range from 66.6kW up to 100kW for the North American market. The new inverters combine large capacity with ease of installation and reduce setup time and cost.
Solar Power International attendees are invited to visit the SolarEdge booth, #3741, to meet with local and global management teams, learn more about SolarEdge's new product offerings, and participate in training sessions. In the Installer Training Booth 4387, Jason Bobruk, SolarEdge's Director of Code Compliance, will present on "The Role of Smart Inverters for Expanding the Interconnectivity of PV" on Wednesday, September 13, 2017, 12:30 PM - 1:30 PM and Michael Rogerson, SolarEdge's Marketing Director, will lecture on "Drive into the Future with SolarEdge – The World's First Inverter-Integrated EV Charger" on Tuesday, September 12, 2017, 4:30 PM - 5:30 PM.
About SolarEdge Technologies
SolarEdge provides an intelligent inverter solution that has changed the way power is harvested and managed in solar photovoltaic systems. The SolarEdge DC optimized inverter system maximizes power generation at the individual PV module-level while lowering the cost of energy produced by the solar PV system. Supporting increased PV proliferation, the SolarEdge system consists of power optimizers, inverters, smart energy management, and a cloud-based monitoring platform. SolarEdge's solutions addresses a broad range of solar market segments, from residential solar installations to commercial and small utility-scale solar installations. SolarEdge is online at http://www.solaredge.us